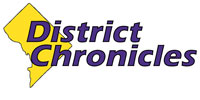 Post Classifieds
Got Critters? Call Adcock's
By DESIREE BRANDON
On February 3, 2005
Business Name: Adcock's Trapping Service
Business location: 9215 51st Avenue #1, College Park, MD
Industry: Animal Trapping
Business specialty: Humane animal captureCustomers love the: Prompt and courteous service
Owner's Name: John Adcock Jr.
Birthplace: Cheverly, Md.
Currently resides in: Maryland

Imagine waking up to a beautiful Sunday morning, with the sun peeking through your windows and the birds chirping outside. You lazily get out of bed and head to the kitchen for a cup of coffee with the morning paper, in search of some serenity. Instead, what you find outside is a gang of raccoons rifling through your trash, finishing off last night's buffalo wings and giving you the death stare.

With the close cohabitation of man and animals these days - especially in the suburbs- this scenario is being played outconstantly inthe area. What do you do if this critter disaster befalls you? Who're you gonna call?

Adcock's Trapping Service, that's who.

Adcock's safely catches and removes the animals that find their way into homes across the D.C., Maryland and Virginia area. They concentrate only on animals that have broken into residential homes.

Adcock's has been in operation for over 40 years and is family-owned. John Adcock Jr., the current owner, took the reins of the business from his father, who was an avid hunter and loved fur-trapping. Since then this family has found its commercial niche rounding up pesky intruders, and even though you may think otherwise, they are busy all year round, employing 20 members of staff.

"Being able to help people get the animals out of their hair is what I love the most." Adcock's uses a special type of trap so the animals aren't injured, and they always release them when at all possible.

It was that specialized care that led the D.C. Department of Parks and Recreation to call Adcock's with a plea for help in 1999. Two beavers had ruined four prized cherry blossom trees in downtown D.C.

"They tried to do it themselves but they couldn't do it and they needed help," said Adcock.Adcock's eventually located and safely removed the family of beavers.

However, beavers are not the most interesting animal that they have come across. Exotic monitor lizards and 15-foot pythons are some of the everyday sightings in their line of work. Raccoons and squirrels have proven to be the most disruptive, sometimes gnawing on cords and wall insulation.

As for the future of Adcock's Trapping Service, there are no immediate plans. "We just want to continue giving a good service to our customers," says Adcock.

So don't panic when there is a raccoon eating your donuts and hanging out on your kitchen table. Just give Adcock's a call and let them do all the work for you.

Visit www.adcockstrapping.com for more information or call 301-345-0105.


Get Top Stories Delivered Weekly
Recent districtchronicles News Articles
Discuss This Article