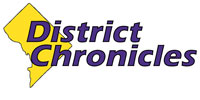 Post Classifieds
Ajavon goes for 28, Mystics lose to Atlanta at the buzzer
Freddie Allen
By DMVAS/District Chronicles
On August 17, 2011
Mystics G No. 22 Matee Ajavon scored a game-high 28 points. Robert Eubanks/District Chronicles
Washington's emerging star Matee Ajavon scored 28, but turnovers cost the Mystics late and Atlanta escaped with a 72-70 victory.
Ajavon and the Mystics jumped out to an 11-6 lead at 6:28 in the first quarter. The teams battled back and forth for lead and the first quarter ended with the score tied at 22.
Atlanta went up 24-22 when forward Erika de Souza hit a turnaround jumper to start the 2nd quarter. The five-year veteran finished with 18 points and 12 rebounds. Atlanta took a narrow 39-38 lead into the locker room at the half.
Atlanta stretched their lead to six points (55-48) to start the fourth quarter. Ajavon turned up the heat slashing to the basket and raining threes. Ajavon hit a three (55-57) and forced a turnover, then hit two free throws to tie the game at 57 apiece.
Atlanta center Alison Bales hit two from the charity stripe and then Langhorne and Ajavon each hit layups. Langhorne finished with 23 points and 7 rebounds. Ajavon hit another shot from downtown, and Washington regained the lead (64-61) with less than 4 minutes to play. Ajavon hit another three (67-61) to give Washington it's biggest lead of the game.
That's when Atlanta came roaring back.
After Mystics point guard Kelly Miller missed the back end of a pair of free throws, Iziane Castro Marques took advantage of Washington's slow transition defense and knocked down a three pointer to cut the lead to 4. Ajavon hit two more from the charity stripe, before Washington went cold. Atlanta's all-star Angel McCoughtry hit a three of her own and then stripped Ajavon with 17.9 seconds to play. Armintie Price scooped up the loose ball and raced down the court for the layup. With less than 6 seconds remaining, Mystics forward DeMya Walker double-dribbled, driving to the basket on a broken play. Atlanta's Sancho Lyttle hammered the nail in the coffin, hitting a kick out jumper with less than a second left on the clock.
McCoughtry finished with 19 points, 5 assists and 4 steals.
"They hit some big shots and made some plays. It's a tough loss and we just have to learn from it so it won't happen again, " said Mystics point guard Kelly Miller.
"We got New York coming up again, so we're just gonna have to get back to work, and forget this game and look forward to the next one."
Get Top Stories Delivered Weekly
More districtchronicles News Articles
Recent districtchronicles News Articles
Discuss This Article