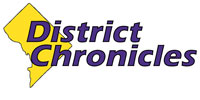 Post Classifieds
Lady Bison roll Spartans 65-43, Men's Bison not so much.
On January 23, 2011
Lady Bison On Monday, January 17, the Howard University basketball squads split an action-packed double header against Norfolk State at Burr Gymnasium. Sophomore G Tamoria Holmes led the Lady Bison to a 65-43 win over Norfolk State (6-8), while the men's team came up short against their conference rivals in a game televised on ESPNU.
"Tamoria played great tonight," said head coach Niki Geckeler. "She made good decisions all around, and she was able to get others involved with her efforts."
Holmes scored a career-high 22 points against the Spartans. Sophomore F Saadia Doyle chipped in 17 points and grabbed 8 rebounds and 3 steals. Howard G No. 5 Cheyenne Curley-Payne had a solid performance with 13 points and eight assists and 6 rebounds.
For the game, the Lady Bison held a 24-20 advantage in the paint. However, Norfolk State won the battle of the boards, 42-33. The Spartan bench also outscored the Lady Bison bench 20-6. Norfolk State's Batavia Owens finished with 15 points and a game-best 13 rebounds.
The Howard men's squad (2-15 overall, 0-5 in the MEAC) held their own against the Spartans (3-13 overall, 2-3 in the MEAC) in the 1st half trailing by one. When Norfolk State's leading scorer Kyle O'Quinn got into foul trouble, the Spartans adjusted, relying heavily on bench scoring to build a solid lead. Norfolk State outscored the Bison bench, 31-7 for the game. O'Quinn finished with 5 points, 13 under his average, but he grabbed a game-high 10 rebounds and blocked four shots.
On January 22, the Howard University Bison head south to take on the Florida A &M Rattlers. Compiled from HUSID.
<table align="" center""="" style="" width:194px;="" height:"160";="" width:"160""="">
Get Top Stories Delivered Weekly
More districtchronicles News Articles
Recent districtchronicles News Articles
Discuss This Article