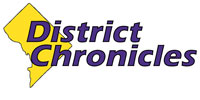 Post Classifieds
Local activists battle Wal-Mart entry into DC market
By Letese' Clark
On October 11, 2011
Councilmember Bowser is yet to turn up the development plans of Wal-Mart. dccouncil.us
Since November last year, residents of Ward 4 have been protesting, petitioning, and rallying against building a Wal-Mart on Georgia and Missouri Ave. Last month they secured a temporary victory when the District Department of Consumer and Regulatory Affairs (DCRA) ordered the development to halt. But it's only temporary.
"Foulger Pratt's flagrant disregard for due process in developing the Curtis Chevrolet site does not bode well for their presence in our community," said Baruti Jahi, a member of Ward 4 Thrives.
Wal-Mart announced last November that it planned to open four stores in the District in late 2012.The locations are: 801 New Jersey Avenue NW; Georgia and Missouri Avenue NW; Capitol Heights (East Capitol Street and 58th); and New York Avenue and Bladensburg Road.
Since then, Ward Four Thrives and other city-wide community activists have been battling the company to force it to involve community interests in its stores development plans. Foluger Pratt has not issued on a comment on the issue.
In the beginning of September, members of Ward 4 Thrives noticed that developer Foulger and Pratt had begun construction without posted permits and notified the DCRA. The agency then issued a stop work order to Foulger Pratt.
Ward Four Thrives member William Washington believes the neighborhood needs a community driven development, not a big corporation.
"Wal-Mart will cause a traffic nightmare, shutter local businesses, and sound a death knell for any future economic development in our neighborhood,"he said at a meeting on the site in August.
The group has also presented a petition against the proposed Wal-Mart to Deputy Mayor Victor L. Hoskins and Ward 4 Councilmember Muriel Bowser.
In December of last year, Bowser responded to the concerns of residents by noting that she understood the community's concern and planned to reach out to see what the development plans were. There has been no update on the status the councilwoman's concerns.
Gerri Adams Simmons, Ward Four Thrives community spokesperson, has called on councilwoman Bowser to step up and represent her constituents.
But Ward Four Thrives isn't the first group to request a Wal-Mart free zone. Wal-Mart Free DC, an alliance of concerned citizens determined to stop construction of the store, has held two protests outside of the home of the senior vice president of Foulger-Pratt, Dick Knapp.
Living Wages and Healthy Communities Coalition, have launched a Respect DC campaign to ensure that no Wal-Mart is built in Washington, unless the company shows it respects DC by agreeing to an enforceable community benefits agreement. The agreement will guarantee that Wal-Mart treat its workers with dignity, provide full-time, living wage jobs with affordable health and retirement benefits, and help neighborhoods improve their economic standing and quality of life.
"I understand it will lower the high unemployment rate, especially in Ward 7 and 8 where unemployment is double the national rate," said Rev.Howard Finelyof Florida Ave. Baptist Church."However, we have to look at those jobs and determine if they offer a livable wage. It's important the community is educated on the pros and cons of Wal-Mart coming DC."
Based on a Wal-Mart memo, a full-time employee would make $20,774 a year, less than the $22,050 the Bureau of Labor Statistics, National Occupational Employment and Wage Estimates, defines as poverty level for a family of four.
Wal-Mart has announced that its charitable foundation will make a $3 million donation to finance job readiness and workforce training programs in the District, part of an effort to address above-average unemployment and improve the retailer's image as it angles to open its first D.C. stores.
A survey, conducted by Lester & Associates and commissioned by Wal-Mart, shows some of the strongest backing coming from Ward 4 (67 percent), Ward 5 (79 percent), Ward 6 (67 percent), Ward 7 (91 percent) and Ward 8 (95 percent).
But the mega company got another jolt in the summer when Mayor Vince Gray demanded a Wal-Mart to be built at the Skyland Shopping Center in Ward 8. If not, then no stores will be built in DC, he told Wal-Mart officials in a meeting with them. The status of this deal is still unknown.
Owner of a local chain Yes! Organic Foods, Gary Cha joined the chorus of objectors to Wal-Marts entry into the DC retail market.
"Walmart will put local employers like Yes! out of business and destroy the decent-paying jobs we create for a few hundred poverty-wage jobs," said Cha.
But not all Washingtonians are against Wal-Mart coming to town.
For example, 46-year-old Rodney James is looking forward to a Wal-Mart in his neighborhood in Ward 4.
"A Wal-Mart on Georgia Avenue would allow me to purchaseaffordable groceries without having to use a savings card like it is at Giant or Safeway," James said. "It would save me a trip to Maryland to go a Wal-Mart."
Get Top Stories Delivered Weekly
More districtchronicles News Articles
Recent districtchronicles News Articles
Discuss This Article