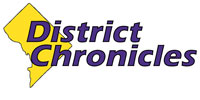 Post Classifieds
Barnes attacks violence at the ROOT
By Kevin Wilson/Contributing Writer
On April 8, 2007
Modern Mayans were surprised to learn so many are looking to the calendar 2012. antiguadailyphoto.com
If you had told Kenny Barnes Jr., the newlywed, entrepreneur that he would die on the steps of his U Street clothing store, he never would have believed you. He had just opened up Boutique U, a clothing store on 11th and U Street. At the time some questioned his decision, but young Kenny Barnes Jr. had incredible vision. Where others had seen a dilapidated, drug-ridden wasteland, he saw promise.On one slow Monday night in September 2001, Barnes sat on the steps of his store rapping to a couple of boys from his old neighborhood. Finally one of the young men stood to leave. Without warning, he pulled out a handgun and aimed at Barnes' head, intent on robbing the trusting storeowner. "You know what time it is," the man said.

When Barnes resisted, the young gun man squeezed the trigger and shot Barnes in the face killing him instantly. It was September 24, 2001.

Sixty-six-year-old Kenny Barnes, Sr. was returning home from a psychology class in Baltimore when his cell phone rang. His sister's number appeared on the display. Denita Cook was calling, probably just checking in, he thought. They talked everyday. When Barnes answered, Cook uttered the words no parent ever wants to hear. "Your son has been shot."

The police report indicated that Kenny Barnes, Jr. was shot, killed, and robbed of $400, while a third man laid on the ground pretending he was dead.

The officers asked Barnes to stay at home and let them do their jobs. Barnes was beside himself. How could he go home now? Barnes turned to the streets of his youth for answers and that same night his son's killer had a name: James Hill.

Ironically, Hill, 16, was the son of a man that Barnes Sr. grew up with in the Trinidad neighborhood of Northeast DC. Thirty days before killing Kenny Barnes Jr. Hill stood in the middle of Trinidad Avenue and shot another man nine times in front of nearly 20,000 people. The year before, Hill shot another person at the Black Hole Night Club on Georgia Avenue. In both cases, there were witnesses who refused to testify.

"Here was a murderer not running, but walking the streets, who'd kill someone in the Fifth and Third districts, but no one was sharing information," Barnes said.

Blind rage and frustration nearly consumed the grieving father. He wanted to kill his son's assassin. But the lessons of his youth learned at the feet of his mother and grandmother calmed him and he chose another direction.

Hill surrendered in October 2001 and was sentenced in October 2002 to a 105-year prison sentence for three second-degree murder charges, which carry 33 years apiece, and six years for carrying a concealed weapon.

Barnes learned that Hill had a long rap sheet in the juvenile justice system. A system that was badly broken.

Youth Service Administration, under the leadership of Gayle Turner, failed to submit a report that James Hill was missing from a halfway house he was remanded to for a previous sentence until February 2003. Hill had been jailed a year and a half before YSA even reported that he been had missing from the juvenile justice system. Barnes turned all of his rage towards the Youth Services Administration.

Kenny Barnes, Jr. wife sued the Mayor, the district government and Youth Service Administration for 150 million. Ultimately, the lawsuit led to Gayle Turner's termination. The Youth Services Administration was dismantled as a direct result of Kenny Barnes' actions.

"I went after the man who murdered my son, and the agency that allowed him to be free," Barnes said.

At 61, Barnes took his life savings and went bankrupt to create the non-profit organization, Reaching Out To Others Together, ROOT, Inc.

ROOT Inc. works with law enforcement officials, families of victims of violent crimes, and communities to stomp out violence in the city. Without any experience in operating a national campaign on gun violence, Barnes admitted that at times he feels like a salmon swimming upstream.

"There are programs, but no cohesive strategy to eliminate homicide and violence," Barnes said. "The back stabbing in our communities, the tactics of the poverty pimps and the lack of consideration and compassion from our government are terrible."

Barnes is taking his crusade against violence to the steps of John Wilson building, Friday April 6. At 10:30am, Barnes, Mayor Adrian Fenty, Councilmember Jim Graham, and several city organizations kick off an aggressive awareness campaign to address gun violence.

During the summer, ROOT Inc. plans to host a summit to address similar issues on the campus of Howard University.

What better place to have a candid discussion, than at Howard University, one of the most elite institutions in the world, to propose legislation and to share plans for intervention concerning an epidemic that's killing Black men universally, he said.

"We have a lot of committed people with the will and compassion to save lives in order to change the direction of the city," he said.

To find more about ROOTS, INC. go to www.rootsinc.org.
Get Top Stories Delivered Weekly
Recent districtchronicles News Articles
Discuss This Article