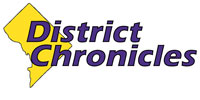 Post Classifieds
Looking for love? Turn right in 200 yards, recalculate
By Jasmine Wallace/Contributing writer
On December 12, 2010
A protester confronts Wayne LaPierre of the NRA. nnpa.org
The iPhone has added a mobile dating application and Nicole Williams is ecstatic about it. It's called SinglesAroundMe (SAM), a GPS application that debuted on the dating scene in April this year. GPS has long helped drivers find alternate routes around traffic. Now it's helping people find love, gushed one Canadian writer announcing SAM's debut in Canada.

"There's an app for everything so why not dating," Williams said. "I used it when it first came out on the market . I thought the app was a new era of dating. It's a movement from the newspaper and the computer."

SinglesAroundMe users can view unique profiles of singles close to them, put them on a hotlist and send them winks - a wink and a drink or a wink and GPS to get the conversation going. It also features a unique "destination search" tool which allows users to look for singles at specific locations of their choice locally and worldwide. This allows users to locate their friends and where a potential date might be.

Hattie Sellick of SinglesAroundMe said the app has already attracted 20,000 members worldwide, 200 in the Washington area.

SAM founder Christopher Klotz said that since its launch on thei iphone, SinglesAroundMe has grown rapidly, with sizable communities of singles in most cities.

"Big cities like New York, London, Sydney and Los Angeles have many users and smaller cities like Austin, Paris, Vancouver and Edinburgh are gaining quickly," Klotz said.

Klotz added that users are finding that SAM brings people together quicker than traditional dating sites.

"The beauty is that you don't have to hide behind a computer as SAM allows singles to meet up serendipitously on the fly, in real time, wherever they are worldwide," he said.

SinglesAroundMe will soon launch on the Blackberry and Android, thus allowing users across various smartphone platforms to communicate for the first time. This could potentially bring together over 100 million smart phone users, Klotz said. SAM is available through iTunes and iphones.

Still, DC resident Karie Nicholson is not one of those jumping on the GPS dating wagon. Nicholson uses an Android phone which is scheduled to receive the SAM app soon.

"You know it's a lot of crazy people, a lot of scams on the Internet and I don't trust that part of my life on the Internet," Nicholson said.

Suitland, Md., resident Lamika Payne also said she would not use this new app, even when made available to Android phone users like her.

"People are crazy and I'm not one to go onto a singles site," Payne said. "I mean you should be able to find people around you, not on some Web site and you don't know who you are getting involved with. They might try to get me."

Not to worry, said Nocole Williams of Toronto Canada, who is firm believer in SAM's virtues.

"There are great features that allow you to hide your GPS," Williams said. "For example, when I'm at work or at home I can turn it off. But if I'm on my way heading out to the club, I can turn it on. It's no different than Facebook. On Facebook people share personal pictures and information. This is the next era in dating and socialization."

Williams cooed that she went out last weekend with some of her girlfriends in downtown Toronto and they met some nice guys and had coffee at a cafe.
Get Top Stories Delivered Weekly
Recent districtchronicles News Articles
Discuss This Article