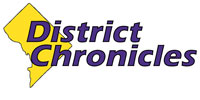 Post Classifieds
Drowning inspires underwater distress signal device
By Pastor George A. McKinney/Special to the NNPA from the San Diego Voice & Viewpoint
On June 12, 2014
SAN DIEGO — Four years ago Pastor George A. McKinney and his family hosted one of his annual pool parties. Nothing was out of the ordinary for this event, which McKinney had been hosting for more than a decade without incident. This year was the exception.
In the pool, the kids were playing dead man's float when seven-year-old Albert went under. No one immediately noticed and before anyone was aware, he was at the bottom of the pool. Once he was discovered, a few people immediately dove to the bottom, brought Albert to the pool's edge and began to perform CPR as one of the parents called 911.
The paramedics rushed him to the hospital, but he could not be saved. Pastor McKinney, his family and all families involved were deeply impacted by the tragedy.
McKinney wrestled with Albert's death. "I asked the Lord, 'what is to be learned from this?' To me it was a senseless tragedy. It was at that time, I initially started seeing some visions of a device. I had a dream, and in the dream I saw schematics [of] what it would look like. The Lord started showing me these things. So I started committing my thoughts to paper, and that was the birth of AJADD."
AJADD, partly named after Albert, is an underwater distress signal device in the form of a watch or hand instrument that would be worn on the body. The device uses GPS technology, vitality monitoring, and swimmer identification technologies to alert of a swimmer's imminent danger. It sends and receives signals in real time to a lifeguard or caretaker, on land or on ship.
"The problem with most drownings is that you can't even tell. [The swimmer] looks like they're just playing in water. Before you know it, it's too late," said McKinney. "There's like a 2 to 3 minute window that you have to get to them. A device that creates early detection is so important."
It was during the patent process that Pastor McKinney began to understand the devastating effects accidental drowning has had on the African-American community.
"I started inquiring into the lives of African-American families within my church and in the community, and I found that many of them have had a cousin, sister, or close friend who has drowned – but yet, nobody ever reports that this is a problem."
According to the Centers for Disease Control and Prevention, 80 percent of people who drown are male. Children ages 1- 4 have the highest drowning rates, and most of those drownings occur in homes or swimming pools. The fatal drowning rate of African- American children in this age group is almost three times that of White children.
McKinney said that factors such as access to pools, the desire or lack thereof to learn to swim and choosing water recreational activities contributes to these statistics.
"In the poorer communities, we don't choose water-related activities, so we're not accustomed. We get out there and we're not used to it, and we get in trouble. Choosing water-related activities contributes to the racial differences in drowning rates."
Get Top Stories Delivered Weekly
More districtchronicles News Articles
Recent districtchronicles News Articles
Discuss This Article