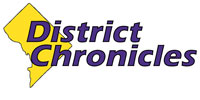 Post Classifieds
Metro Brief: Teen tech wonders showcase their stuff
District of Columbia
On June 16, 2014
Students of the Howard University Middle School of Mathematics and Science ((MS)2) brought their ideas to life and showcased entrepreneurial skills when their school hosted the second annual Clearly Mobile Innovation Challenge (CMIC) last week.
The CMIC is the culmination of the year-long Startup Middle School Program that was supported by the school's relationships with Comcast and Clearly Innovative, Inc. The initiative grew from the collective efforts of a group of entrepreneurs and STEM (science, technology, engineering and mathematics) professionals who wanted to create a project that could expose students of color to opportunities in tech entrepreneurship. The key technology partner for Startup Middle School is Clearly Innovative, Inc., the providers of cross-platform mobile solutions, leveraging a combination of the Appcelerator Framework, Objective-C and Java.
Startup Middle School harnesses, develops and promotes the talent that already exists within American middle school classrooms to create a new generation of innovative global technology leaders. At (MS)2, the program entails the development of a custom mobile technology curriculum and competition to engage and motivate 40 middle school students from economically-challenged backgrounds to pursue careers in STEM.
The students will present their ideas to a live audience and a distinguished panel of judges for the chance to win a special trip, and potentially find investors for their projects.
Yohance Maquebela, executive director of (MS)2, is a staunch believer that students of color can excel in STEM disciplines if given the right opportunities.
"I am very excited about this opportunity to participate in the Clearly Mobile Innovation Challenge," said Maquebela. "Working with professionals, and in particular, entrepreneurs from diverse backgrounds, exposes our students to information and expert instruction that they might not otherwise get. It also gives them a chance to work on a real-world project with real-world results. This pilot is the perfect fit for our school, where the majority of our students go on to major in STEM subjects in college."
Aaron Saunders, president of Clearly Innovative, LLC, one of the few mobile solutions companies headed by an African American, is confident that he can make a lasting impact with his involvement in the CMIC.
"When I first started my company in 2009, there was a lack of professionals of color in my field. Unfortunately, not much has changed, four years later," said Saunders.
"However, after working with the program for over a year, I now see that the students can design and build mobile apps that solve real-world problems. In fact we are helping two of our teams to negotiate deals to produce their apps."
Get Top Stories Delivered Weekly
More districtchronicles News Articles
Recent districtchronicles News Articles
Discuss This Article