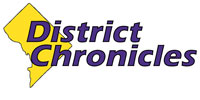 Post Classifieds
Metro Brief: Howard University mourns loss of legendary professor, publisher
District of Columbia
On June 16, 2014
When Howard University alumni and staff discuss legendary journalism professors, Raymond H. Boone Sr. tops the list. Boone, 76, who died on last week after battling pancreatic cancer, taught at Howard for nearly a decade before starting the award-winning Richmond Free-Press in 1992. He was revered as a tough educator who challenged his students, emphasizing excellence and ethics.
"We are deeply saddened to hear of the loss of Ray Boone, publisher, editor and teacher, who had a profound impact on the Black press, and the national media, using the printed word to convey vital information in the lives of African Americans," said Gracie Lawson-Borders, Ph.D., and Dean of the School of Communications.
A Pulitzer Prize juror, Boone received his Bachelor's in journalism at Boston University and a Master's in political science at Howard University. Funeral services are pending, and a memorial is being planned in Washington, D.C. Boone is survived by his wife, Jean, and two children, Regina and Raymond Jr.
"Professor Boone was a luminary," said Naomi Travers, editor-in-chief of Howard's campus newspaper, The Hilltop. "He was the best journalism professor I had at Howard and one of the best professors I've had university-wide, hands down."
"I had his copy editing class while at Howard – tough class; great professor," said Christopher Cathcart, president of the One Diaspora Group. "We can all remember a handful of instructors from our college years who made a real impact; Ray Boone was one of them for me."
Bishetta Merritt, Ph.D., interim chair of the Department of Media, Journalism and Film, said, "my fondest memories are of working with him on writing a set of bylaws that would address the needs of journalists, scholars and practitioners. He was a phenomenal colleague, a dedicated newsman and an excellent teacher. He made the material come alive."
Clint C. Wilson II, Ph.D., emeritus professor of journalism and Communication, Culture and Media Studies, said, "Ray was the epitome of a journalistic advocate for African Americans and he spared no one – Black, White or otherwise – in his vigorous pursuit of justice and equality for all citizens."
Time and Black Enterprise magazines praised Boone as a pioneering role model for the Black press. Boone, who was inducted into the Virginia Communications Hall of Fame in 2000, was an international correspondent for the National Newspaper Publishers Association and also worked for the Norfolk Journal and Guide, the Quincy Patriot-Ledger and the Suffolk News-Herald, his hometown paper.
"I was aware of his reputation as a no-nonsense journalist of character and integrity," said Lawrence Kaggwa, Ph.D., who hired Boone when he was chair of the Department of Journalism. "He inspired me to start the District Chronicles," a community newspaper serving the Washington region.
"Dr. Martin Luther King Jr. said, 'The ultimate measure of a man is not where he stands in moments of comfort and convenience, but where he stands at times of challenge and controversy,'" noted Hazel Trice Edney, president of the Capital Press Club, who teaches journalism at Howard and was part of Boone's "boot camp" at the Richmond Free-Press.
"By pushing beyond the limits, he used the pen to tear down vestiges of White supremacy, to open doors for the left out, and he fearlessly confronted injustices and racism wherever they raised their ugly heads," said Edney. "He dedicated his life to this cause."
John William Templeton, another Boone boot camp survivor and Howard alumnus, evoked the founders of Freedom's Journal, the first Black newspaper.
"I celebrate Ray Boone on his passing for continuing to pass the torch that John Russwurm and Rev. Samuel Cornish lit in 1827 when they proclaimed, 'We wish to plead our own cause,'" he said.
Greg E. Carr, Ph.D., JD, chair of Howard's Department of Afro-American Studies, put Boone's legacy in a global perspective. "He did more than capture the spirit of our people," Dr. Carr explained. "He held a mirror to our community so that we'd never forget what and who we are and what we must still do and be. There is no higher aspiration or accomplishment for the chronicler."
Get Top Stories Delivered Weekly
More districtchronicles News Articles
Recent districtchronicles News Articles
Discuss This Article