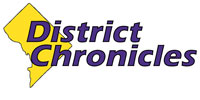 Post Classifieds
Wanda's on 7th hair salon reborn at Progression Place
By Umarah Mughnee/Contributing writer
On June 16, 2014
In the Shaw area of Northwest D.C., 7th Street is changing. High rise condos, solidcore workout studios, chic bars and restaurants are pushing out old chicken joints and hair salons. But long-time Shaw businesswoman Wanda Henderson is seeing new opportunities. In June, she re-opened her salon as, Wanda's on 7th Salon and Spa, right next to other new businesses catering to affluent young professionals taking residence in the Shaw Howard neighborhoods.
Located at 1851 7th Street, NW, Wanda's has the look of a chic luxury salon equipped with eight stylist stations, three barbers and provides spa services like facials and waxing, a make-up bar and manicure and pedicure services.
This is the second time Henderson has done hair business in the same spot. From 2003 to 2010, Henderson was waving around flat irons and hair rollers in a two-story building. But city officials and developers decided to renovate every building at 7th and S Streets, NW, adjacent to the Shaw-Howard Metro station to make way for mixed-use high rises of office, retail, condos and apartment spaces. They dubbed the new development Progression Place.
While construction was going on, Henderson re-located her hair salon and barber shop to 2624 Georgia Ave, NW. Now that Progression Place is open for business, residences and entertainment, Wanda's Salon and Barber Shop is back, too. It opened to returning and new customers June 5, with Mayor Vincent Gray cutting the ribbon.
Wanda's grand opening was part of Mayor Gray's ribbon-cutting marathon that day involving new businesses along 7th and 9th street, including Fishnet Restaurant at 1819 7th St., NW and Appioo's African Bar and Grill at 1924 9th St., NW.
It was hard to tell what made the salon more comforting: the golden yellow walls or the joyous smiles that lined the faces of Henderson's family, friends and business consultants that were there for support at the grand opening.
Everyone was dressed to the nines, and it was obvious the warmth was not from the D.C. heat but from the hugs and laughs that were shared inside the salon.
The salon is open from 10 a.m. – 6 p.m. Monday through Sunday. Prices for the services are set by individual stylists.
Many residents around the area are excited to have Henderson back in the Shaw area. Close friend and interior designer, Trystin Kier Francis, expects slight but positive change to the salon.
"It went from a two-story salon to a salon of little over 1900-square feet," said Francis. "It is a scale down, but also a scale up for the salon in terms of the services that she is going to be offering."
Long-time customer D. White expects the same excellent customer service Wanda's is known for. Wanda's always made him feel right at home, he said.
"Wanda's is an awesome choice for quality styles and cuts," said White. "The stylists and barbers are great. This has been my spot for many years."
Gladys Kamau, business development specialist, has been working with Henderson for 10 years and was impressed by how far the salon has come.
"I came in here last week, but seeing it today is remarkable to see it open with the power and the air on and all the equipment in here," he said. "Especially, all the people in here to support her. " Kamau took special note of the 10 new jobs at the new location.
Tears streamed down Henderson's face as she expressed her thanks to the many people that showed up to her grand opening. She even joked, "I hope that this won't be the last time I see you in my place."
Get Top Stories Delivered Weekly
More districtchronicles News Articles
Recent districtchronicles News Articles
Discuss This Article