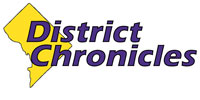 Post Classifieds
Metro Brief: Montgomery College receives nearly $300K for STEM career training
Montgomery County
On June 30, 2014
The Association of American Colleges and Universities award Montgomery College $299,980 for a three-year program to support curriculum and faculty development that will improve the success of women and under-represented minority students in its computer science degree program.
The college was one of 20 educational institutions nationwide – and the only community college – to be selected for the AAC&U Teaching to Increase Diversity and Equity (TIDES) in STEM. Projects at these campuses will focus on the development of models for broader institutional change for the advancement of evidence-based and culturally competent teaching in STEM fields (science, technology, engineering, and mathematics), particularly in the computer and information science domains.
"The TIDES initiative is an exciting opportunity for Montgomery College to expand on its long-standing commitments to research-based teaching strategies, meeting the needs of diverse students, and building a strong workforce for the region's research labs and science and technology companies," said DeRionne Pollard, Montgomery College president.
The TIDES initiative is funded with a $4.9 million grant to AAC&U from The Leona M. and Harry B. Helmsley Charitable Trust.
Montgomery College is a leader in STEM education, experiencing significant enrollment growth in STEM programs over the past several years due to the growing industry demand in the region, strong faculty expertise in STEM disciplines and state-of-the-art science centers. The following criteria were used for selection of the 20 TIDES schools:
High level of institutional readiness;
Demonstrated commitment to sustaining project activities;
Targeted focus on increasing the number of women and underrepresented minorities in the undergraduate computer/information science disciplines; and
Innovation in linking computer/information sciences with other STEM and non-STEM courses.
The grant will enable Montgomery College's computer science program to accomplish three primary activities: pair an introductory computer science course (Introduction to Programming) into learning communities with a math course and a course for English Language Learners to enhance student success; involve computer science students in undergraduate research with a Montgomery College faculty member; and evaluate and redesign classroom activities so they better meet the learning styles of women and students from groups that are under-represented in the computer science field.
Currently, the college's computer science majors are approximately 35 percent female and 55 percent from under-represented minority groups. The project plans to increase the representation of women and under-represented minority students in this program by at least five percent during the next three years.
This project will involve student learning assistants in the classroom; matching computer science students to faculty mentors for academic and career advising; and participation in STEM Xpress orientation, information and internship workshops.
AAC&U is the leading national association concerned with the quality, vitality, and public standing of undergraduate liberal education. Its members are committed to extending the advantages of a liberal education to all students, regardless of academic specialization or intended career. Founded in 1915, AAC&U now comprises more than 1,300 member institutions – including accredited public and private colleges, community colleges, research universities, and comprehensive universities of every type and size.
Get Top Stories Delivered Weekly
More districtchronicles News Articles
Recent districtchronicles News Articles
Discuss This Article