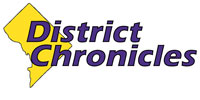 Post Classifieds
A young man's struggle against life's challenges
District student McDowney, a star in the 180 Days documentary, graduates and heads to UDC.
By Rachel Sudduth/Contributing writer
On June 30, 2014
It was a quiet Tuesday evening in the Southeast Congress Heights neighborhood of Washington, DC. Six-foot-five Rufus McDowney sat on his living room couch, bouncing a battered basketball telling his story of struggle and ultimate success. On the coffee table was a Black Enterprise magazine featuring an article and picture of McDowney at New York City's Waldorf-Astoria.
McDowney's journey from Southeast D.C. To Waldorf-Astoria was an improbable one. It started with the National Black Programming Consortium wanting to shine a spotlight on the nation's educational crisis. It produced a documentary for PBS entitled "180 Days: A Year Inside an American High School," featuring the struggles of McDowney and four other students at Washington Metropolitan High School, also known as DC Met. The documentary won this year's coveted Peabody Award and McDowney was invited by the Consortium to accept the award in New York City on their behalf.
Earlier this month, McDowney savored yet another momentous occasion – this time at Howard University's Cramton Auditorium where Ballou Senior High School held its graduation program. After transferring from D.C. Met, he completed his high school studies at Ballou.
"It doesn't matter where you start, it's where you finish!" said graduation speaker, retired Marine Lt. Gen. Ronald S. Coleman.
He addressed the 138 members of Ballou's class of 2014, including McDowney, whose personal journey holds true to Coleman's statement. Against all odds, McDowney will enter the University of District of Columbia this fall to major in social work.
But it was a long and tortuous journey in and out of the juvenile justice system since the age of 13. He flunked the majority of his classes at Cardozo High School until 10th grade when he transferred to DC Met located at 300 Bryant Street NW, and ended up finishing his high school studies at Ballou Senior High school located on the other side of the District, east of the river. McDowney described the neighborhood he grew up in as "rough."
"It was like any other neighborhood with dope boys and drug addicts," he said.
McDowney struggled with delinquency, multiple suspensions from school, life in various group homes and the loss of his mother to lung cancer.
Even with the trouble that dogged him, McDowney said he always felt the need to move forward. That is the hallmark of DC Met students – resilience. Downey focused on academics as a mental getaway from trouble. His spirit caught the attention of a life-long mentor, Willie C. Anderson Jr. of DC Metropolitan High School.
McDowney credits DC Met with turning his life around. Teachers and staff at DC Met dedicate themselves to changing the direction of Washington's youth in the midst of the storms they are experiencing. From the 2011-12 school year to the 2012-13 school year, its four-year graduation rate increased by 15 percent, according to the school's web site.
"The first time we met, we just clicked," Anderson said recalling his initial interaction with McDowney. "He approached me and introduced himself, that was rare. From then I said let's work with him." Anderson characterized Downey as an inquisitive young man with a lot of potential.
Another mentor, Rodney Weaver, is also a DC Met youth development worker. He worked with McDowney on class attendance, an issue that plagues DC Met students. In 2010, for example, nearly 50 percent of students at DC Met missed 15 or more days of school, according to school records.
Through a system of roleplaying, Weaver worked with Downey to teach him coping methods and problem-solving techniques.
"Some students are coming from a background where emotion cannot be expressed; it's about who can fight better," said Weaver. "I'm teaching them who can problem solve better."
Get Top Stories Delivered Weekly
More districtchronicles News Articles
Recent districtchronicles News Articles
Discuss This Article