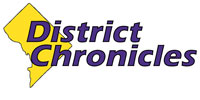 Post Classifieds
GM's Eric Peterson loves dealing in diversity
By George E. Curry/NNPA Editor-in-Chief
On July 7, 2014
HOLLYWOOD, Fla.– After working 37 years for General Motors, it is not unusual for Eric Peterson, vice president of Diversity Dealer Relations, to walk into a Black dealership and be introduced to one of the owner's children.
"See that man there," a dealer recently told his son, pointing to Peterson. "He helped me get started. And if you do what you're supposed to do, he'll help you, too."
Peterson has helped many Black dealers for nearly four decades. Not only has he helped them get started, he has helped keep them grow their business.
"Everyone has a story," recounted Peterson. "My passion is helping people realize their dream. It makes me feel good about what we're doing."
And GM has done a lot.
"GM has a long history of diversity and inclusion before it became popular," explained Peterson. "We started the first minority supplier program in '68. We started the first minority dealer program in '72. Rev. Leon Sullivan was the first African American on a major board and that was GM. We started the first dedicated women's program in 2001. No other manufacturer has done that. Diversity and inclusion has been in GM's DNA."
At its peak, there were 400 dealers of color, approximately 150 of them Black. Like the overall figures, the number of minority dealers has also sharply declined. In 2013, there were 208 minority dealerships, tops in the industry. That figure is 211 minority dealers, 44 of them Black.
The company continues to rebound after going through a government-backed bankruptcy in 2009. As part of that Chapter 11 reorganization, the company discontinued its Hummer, Pontiac and Saturn brands and sold Saab to a Dutch automaker.
"We lost about 25 percent of our dealers," Peterson recounted ... We lost about 25 percent overall, we lost about 28 percent of our minority dealers. Among African Americans, we lost about 33 percent."
He said GM's decision to ditch four of its eight brands hit Black dealers especially hard. Even in the best of times, it's not easy to survive.
In order to be successful as a dealer, Peterson said, one has to be what he calls a student of the game, realizing, for example, that a dealer may make a sale, but it is the service department's reputation that drives customers back for repeat business.
"Most of our dealers are first generation [owners] and that's a challenge when you competing against other dealerships, which are mostly family-owned. It's not uncommon for them to have second-, third-, or fourth-generation dealers in place, where they've just passed it down. We haven't had that luxury yet."
Sometimes dealers fail before succeeding. Pamela Rodgers, who owns Rodgers Chevrolet in Woodhaven, Mich., is a case in point.
"When she first started, she was working for Ford in accounting or something of that nature," Peterson recalled. "She heard about our program – it cost about $70,000 at the time, which tells you how long ago it was. She said, 'I'm going to try that.' The first time, she wasn't successful."
That was in the 1980s. Now, Rodgers is clearly successful, seeing her sales grow from $14 million to $80 million and recently being named Black Enterprise magazine's Dealer of the Year.
Most of GMs minority dealers — nearly 86 percent – are profitable, just below the company-wide figure of 89 percent. They sold 126,617 new vehicles in 2013, brought in $8.5 billion in revenue, employed more than 12,000 people and 68 minority dealerships earned $1 million or more in net profit.
Though his title encompasses the word "diversity," Peterson is clear that Blacks must not get marginalized as companies shift from favoring affirmative action, primarily for Blacks and women, to diversity, which is a broader term that can encompass a variety of groups.
"Now, everything is becoming more multicultural, everything is becoming more minority and diversity focused and is taking attention away from ethnic groups," he said. "From my perspective, we get lost in that shuffle."
Get Top Stories Delivered Weekly
More districtchronicles News Articles
Recent districtchronicles News Articles
Discuss This Article