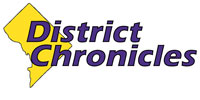 Post Classifieds
School program lures dropouts back to classrooms
By Erika Rae Whitehead and Umarah Mughnee
On August 5, 2014
The 146 graduates of Ballou S.T.A.Y's graduating class of 2014 sat, beaming with joy. Cheers from families and friends bellowed throughout the auditorium. Twenty-one-year-old Anthony Green, a tall and lean young man with a story all his own, savored it all.
And for good reason. There was a time when Green was headed toward becoming of the nation's high school drop outs. According to the U.S. Department of Education, an alarming 1.2 million students drop out of high school annually. That is one student every 26 seconds and 7,000 students a day.
At Ballou High, Green spent more time hanging out with friends who had dropped out of school than he spent in the classroom, smoking and drinking. He spent many of his days wandering around on and off Ballou grounds during school hours, socializing with street buddies.
He paid a price for this delinquent behavior. He was held back in both 8th grade and 10th grade for missing too many classes and for classroom disruption when he attended classes. In 11th grade, Green began to doubt his chances of earning a his high school diploma. He dropped out of Ballou.
"Being held back discouraged me the first time in 8th grade," he said. "But when it happened again in 10th grade and I had to redo the grade, that's when said, 'Yeah I need to drop out.' I really was getting too old for the kids in my classes. It just didn't seem like I belonged. So, I just dropped out."
According to Kid Source and the National Center for Education Statistics, high school students drop out of school for a myriad of reasons. Being held back in grades is a major one. Other reasons include poor academic performance, switching schools, high absenteeism, and students feeling neglected by teachers.
Students blame dropping on not liking school in general or the school they attend. Failing classes, getting poor grades, not keeping up with school work, not getting along with teachers and fellow students, and disciplinary issues are among other reasons.
When Green was 15, he attended Oxon Hill High School in Prince George's County, MD, before dropping out at 18. He idled his time at his mother's home, Tammie Johnson, working out, watching television and socializing with friends that sold drugs. After about a year, his mother kicked him out. "I was bored for real," he said. "All day everyday there was nothing to do."
Green took a job at Kentucky Fried Chicken to support himself. After a few months, quit the job.
"I couldn't really get a good or decent job that I wanted. I had to settle for a fast food job. That was what really pushed me to go back to school," he said. "I really didn't enjoy working at KFC. I didn't want to work at a fast food restaurant."
Green did not like the "little pay" he received at KFC. He wanted a better paying job that made him feel empowered. But without a high school diploma, he couldn't find the dream job he wanted. He felt working at KFC stigmatized him as a high school dropout only able to find work at a fast food restaurant.
It was during this time that he discovered the push he needed to enroll in Ballou S.T.A.Y., an alternative school started in 1989 for kids looking for vocational diplomas or alternative ways to receive their high school diplomas or GED.
Green related to Ballou STAY's mission statement: "It's Never Too Late to Earn Your High School Diploma." Ballou S.T.A.Y.'s student body of more than 500 has program options leading to traditional high school diplomas, external diplomas, GEDs and vocational diplomas.
The vocational programs culinary arts, cosmetology, barbering, auto technology and Microsoft Office.
"I was very delighted when decided to go back to school," Green's mother said. "What really made him go back to school was working at Kentucky Fried Chicken. He said 'mom, this is not what I want to do. This is not my life, this is not what I want to be doing'. There were older cats in there in like their 40's and 50's and he did not want to be like that."
Green chose Ballou S.T.A.Y. because the school was in his neighborhood, one stop away on the bus. The students were older, too, more mature, he said. He could relate to them. His program of choice was mortuary science, inspired by his grandfather,Charles Alonzo Johnson, who was a mortician at a military base in Texas.
"I wanted to study mortuary science in college. Since I was little I wanted to be a mortician," Green said.
At 19, he enrolled in the three-year program at Ballou S.T.A.Y in 2011 academic school year.
"Anthony Green is definitely one of our model students," said Cara Fuller, principal of Ballou S.T.A.Y. "The best thing about Anthony Green is his openness. He is open to every student. He is one of those guys that everyone loves and loves being around. Especially during his second half at Ballou S.T.A.Y., he put the 'pedal to the metal' and did what he needed to do in the classroom."
In his first year at Ballou S.T.A.Y, he met Gary Alston, a 2013 graduate of Ballou S.T.A.Y. The two met in Green's English class during his first year and became best friends since. Alston took the stage at Green's graduation in June , to hand his friend with the Most Improved Student award. The award is given to a student who shows determination and desire to move beyond their own personal barriers for success. As Green walked on stage to receive his award, the two embraced one another and smiled at the crowd.
"Presenting Green with his award was one of the greatest things I have ever done. He means a lot to me, he really does mean a lot to me. I've been through it all with this guy," said Alston. "After I graduated he was about to give up, but I told him not to quit. So to present him with the award for the most improved student was like I don't know, beyond awesome."
According to Principal Fuller, Green's GPA rose because of his attendance which she credits to a major lifestyle change.
"In his case it would have to be actually coming to school and engaging," Fuller said. "About a year and a half or two years ago, he wasn't coming consistently. His attendance improved, his academics improved. He made some lifestyle changes. He did a complete 180."
Asked if he had any encouraging words for those struggling to finish high school or college, Green said, "I would just tell them don't give up. Sometimes things can be hard. As long as you have someone that's there and willing to help you, don't give up."
Get Top Stories Delivered Weekly
More districtchronicles News Articles
Recent districtchronicles News Articles
Discuss This Article