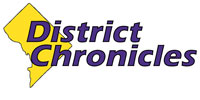 Post Classifieds
Metro Brief: Mayor Gray launches eighth season of MuralsDC
District of Columbia
On August 11, 2014
Mayor Vincent C. Gray kicked off the 2014 season of MuralsDC with a splash on July 31, at the William Rumsey Aquatic Facility at 635 North Carolina Avenue, SE. The event featured a carnival-like atmosphere, made possible by Cirque du Soleil, which included acrobatic acts by the TSNY DC trapeze school, face painting, animal balloons, cotton candy, snow cones and music. More than 100 local children and adults attended the event to celebrate a new mural at the facility.
"This event and the mural we are celebrating today are all about children," said Mayor Gray. "It's about all of the fun, joy and magic that makes childhood exciting. We try to make sure that same fun, joy and magic are experienced at all of our DC Parks and Recreation facilities."
During the festivities, local artist Aniekan Udofia completed an original work of art on the entrance of the facility. The mural, which features a mermaid-like girl swimming in a sea of color, has already been received with great enthusiasm by the immediate community, say DC Department of Parks and Recreation (DPR) officials.
"DPR applauds the efforts by Department of Public Works (DPW) and MuralsDC to beautify our city," said Acting DPR Director Dr. Sharia Shanklin. "With 68 recreation centers, 92 playgrounds and 375 parks, the issue of graffiti is a topic with which we are very familiar. The work of graffiti removal by DGS [Department of General Services] and DPW [Department of Public Works] serves to keep our facilities clean and maintained; and by creating these amazing murals, not only does it enhance the Rumsey Aquatic Facility and the Eastern Market area, it contributes art and beauty to our city that everyone can enjoy."
MuralsDC, funded by DPW in cooperation with the DC Commission on the Arts and Humanities (DCCAH), was launched in 2007 to combat the growing trend of illegal graffiti and to help reduce urban blight. Currently, a MuralsDC mural exists in every ward of the city.
"Today marks the 50th original work of art MuralsDC has installed on a District building and what an amazing way to celebrate this milestone," said DPW Director William O. Howland, Jr. "I am thrilled and honored to have Cirque du Soleil-an internationally recognized and respected organization-acknowledge our artists and the impact their work is having on the city's landscape."
Cirque du Soleil, which celebrates its 30th anniversary this year, was responsible for much of the festivities and also gave away tickets to its performance of "Amaluna," which opened this week at the National Harbor and runs until September 21. Cirque du Soleil donates between 500-1000 tickets to local organizations and charities in each of the cities they tour and contributes more than 1 percent of its revenue to social and cultural programs.
DPW and DCCAH issue a call for both artists and donated wall space each spring. The remaining artists for 2014 include: Eric B Ricks, JBAK, Juan Pineda, Hamilton Glass, Aniekan Udofia, Cita Sadeli and SAM Crew.
These artists will be painting murals at the following locations:
1710 Good Hope Road, SE
1907 3rd Street, NW
6925 Blair Road, NW
314 Carroll Street, NW
644-646 Rock Creek Church Road, NW
3609 13th Street, NW
"Each year, we choose artists whose talent and skill best suit each project," said DCCAH Executive Director Lionell Thomas, adding that most MuralsDC artists either live or grew up in the Washington metropolitan area. "This year's muralists are among the best at what they do."
Local nonprofit group Words, Beats and Life coordinates the art installation for the program, which will continue through September. An art exhibit featuring the 2014 murals is planned for the fall.
Get Top Stories Delivered Weekly
More districtchronicles News Articles
Recent districtchronicles News Articles
Discuss This Article