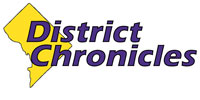 Post Classifieds
The value of healthy father daughter relationships
By Erika Rae Whitehead/Contributing writer
On August 11, 2014
The void began almost immediately when my father moved with his job from Michigan to Indiana. I was 12. My parents divorced five years earlier, but both remained involved in my life. The day he left was a rainy and dreary one. I felt like the skies were opening up to cry alongside me, and in a twisted way it comforted me.
Two weeks after he left, he made his first visit back to Michigan. He and I signed a contract that weekend that he would make the four-hour drive every other weekend to spend time with me. I used to get excited to see him when weekends came. But then the visits became infrequent.
Finally, dad promised he would spend the spring break week with me. I had a pep in my step and was constantly making mental notes of all the shopping, beach trips, barbeques and relaxing we would enjoy together. But my heart sank to a new low when he called to say he was not coming after all. It was after an NBA game he had attended when he called, the game I had watched on television, too. Why couldn't we have watched it together, I brooded.
When I was 14, I mustered up the courage to talk to my dad about what I was missing in my life. Through tears and a painful lump in my throat, the words "I need more from you" tumbled out of my mouth like cinder blocks. I explained the loneliness and sadness I felt as a result of our lack of time together.
"What do you think of my new gym shoes?" was his response. "I got them on sale a little while ago."
That ended the conversation. I felt like he had not heard a thing of what I said, or simply didn't care. I regretted initiating the conversation, opening myself up to hurt and breaking down in front of him. I faked a smile to hide my anger and disappointment. I excused myself and went to watch TV in another room. That episode remains branded into my memory.
For a while, I became numb to my father. The longing for him faded. It began to change, however, during my senior year at Portage Northern High School. He told me he did not want our relationship to continue down the path it was going. It was the beginning of our reconciliation.
The U.S. Census Bureau reports that 43 percent of U.S. children live without their father. The U.S. Department of Health and Human Services adds that fatherless boys and girls are twice as likely to drop out of high school; twice as likely to end up in jail; four times more likely to need help for emotional or behavioral problems and 71 percent of pregnant teens do not have a father in their lives.
From such grim statistics, child development professionals stress the importance of reconciliation between parents and estranged children. Psychologist Joshua Coleman advises that parental figures should initiate the reconciliation.
Without fathers' involvement in the lives of their daughters, young girls can suffer from self-esteem issues, academic difficulties, trust issues, and dating problems, A United States Children's Bureau study stresses. The relationship fathers have with mothers indirectly impacts the relationship children share with their children when they become parents. "Girls with involved, respectful fathers see how they should expect men to treat them and are less likely to become involved in violent or unhealthy relationships," says sociologist W. Bradford Wilcox, associate professor of sociology, University of Virginia.
"Regardless of whether he wants the responsibility, a father's relationship to the world and to women sets down a template that will be played out for another generation," says Psychologist and Family Therapist Marie Hartwell-Walker of the Massachusetts Department of Developmental Services.
I'm glad dad had a change of mind. As time continued, he devoted more time to building our relationship, visiting me more. He attended my senior year regionals tennis tournament, graduation, graduation party and drove with my mom to Howard University to start my freshman year.
I'm a junior and my father and I speak on the phone at least twice a week. Sometimes the conversations simply wander from school to life, and everything in between, constantly affirming my importance to him. I am thankful that my heart opened to receive him even if it took longer than I liked. After a recent break up with a boyfriend, my father was the first person I called.
"It hurts, dad," I confessed.
"It will be alright," he responded. "Stand strong in your decision. Everything will be okay."
Get Top Stories Delivered Weekly
More districtchronicles News Articles
Recent districtchronicles News Articles
Discuss This Article