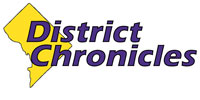 Post Classifieds
Young African leaders talk talent, tech with Obama
By Freddie Allen/NNPA Washington Correspondent
On August 18, 2014
With 60 percent of Africa's population under 35, the future success of African nations will depend on the leadership, skills, and ingenuity of this emerging generation of leaders and this public-private partnership is vital to helping better the continent for years to come, said White House officials.
Adebayo Alonge, 27, a business and entrepreneurship fellow at Yale University in New Haven, Conn., said that YALI is aimed at improving America's relationship with Africa, a relationship that has been frayed.
"[America] lost that first position to Asia and Europe, but this is supposed to redefine that relationship in terms of leveraging all of the young leaders here to improve its influence on the continent," said Alonge, who is from Nigeria. "At the core of it, [Obama] is looking at African youth to take responsibility for moving the continent forward. At the end of the day, it's the young people that have to hold our governments to account."
Hilarius Abiwu, 35, a public management fellow at Morgan State University in Baltimore, Md., said that the young African leaders agreed with virtually all of the comments that President Obama made from looking for homegrown solutions to solve Africa's problems, to addressing gender equality, and moving away from the old model of providing aid to Africa to a new model where Africa is seen as a partner in a competitive world.
"As a continent, we need to move away from the position that we are looking up to other people to come and help us solve our problems," said Abiwu.
He was disappointed to learn that some young Blacks don't even want to identify with the continent. Abiwu recommended that Africans and Black Americans that know the true history of the continent and the beautiful things that are happening in Africa to take the initiative by re-educating the Black community about the great potential that Africa has and about the rising star that Africa has become.
The YALI Summit preceded the U.S.-Africa Leaders Summit, the largest gathering of African heads of state and government hosted by an American president.
"Because for all the difficulties, the world has made progress and Africa is making progress. And it's growing. And there are fewer conflicts and there's less war. And there's more opportunity, and there's greater democracy, and there's greater observance of human rights," said Obama. " … I have no doubt that you're going to leave behind for the next generation and the generation after that an Africa that is strong and vibrant and prosperous, and is ascendant on the world stage."
Get Top Stories Delivered Weekly
More districtchronicles News Articles
Recent districtchronicles News Articles
Discuss This Article