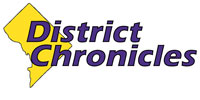 Post Classifieds
Air pollution measurements now required in Black communities
By Jazelle Hunt/NNPA Washington Correspondent
On December 31, 1969
For the first time, the Environmental Protection Agency (EPA) may require oil refineries to regularly measure the air quality at their perimeters.
These fence line measurements will give surrounding communities – largely low-income communities of color – data on the level of pollution they are exposed to each day.
The EPA's proposed rule changes are the result of a lawsuit brought against them by Earthjustice, an environmental advocacy nonprofit, and a few grassroots groups around the country, including the Community In-Power Development Association.
The group is based in Port Arthur, Texas, a historically Black neighborhood-turned fence-line community surrounded by four oil refineries, six chemical plants, one international incineration facility, and one petroleum coke (petcoke) facility. Hilton Kelley founded the association in 2000. He says the lawsuit was years in the making.
"We've been asking for at least six or seven years to get them to revisit these guidelines, and take a look at the possibility of updating them. I think every five years or so, they're supposed to look at ways they can increase protection of citizens who live next to these kinds of facilities," said Kelley.
The civil suit was filed in federal district court last year. In February, the EPA settled and a consent decree was signed for the agency to begin the process of updating its rules for petroleum refineries.
When Theresa Landrum was growing up in southwest Detroit in the 1960s and 1970s, it was a pleasant place to be, she said. Residents tended vegetable patches and fruit-bearing trees. The land was rich, situated on mineral fields. The men in Landrum's family made a decent living at the industrial plants in the area. Marathon Petroleum was the closest plant, and at that time, she says, it was "just one building up on a hill."
Today, the Marathon Petroleum Detroit refinery stretches for miles along I-75, refining 123,000 barrels each day.
"Things started to not grow anymore. A lot of neighbors, friends, and family got sick – breathing problems, asthma, all kinds of cancers, skin rashes. They just attributed it to our lifestyle, but a lot of people didn't smoke or drink and ate healthy, from their garden," said Landrum, who lost both her parents to lung cancer, and is a cancer survivor herself.
Saleem Chapman, environmental justice program manager at Clean Air Council, a mid-Atlantic advocacy organization based in Philadelphia, gave testimony in Houston at an EPA hearing on behalf of the affected communities.
"Philadelphia is one of the most polluted cities in the nation and people are not currently aware. We can't develop proper resources or the proper ways to keep people protected because we don't have access to the data. We're as much in the dark as the communities," said Chapman, a Philadelphia native.
Some say regulations that are already in place to protect fence line communities aren't being enforced. Landrum, for example, cites local elected officials and the Michigan Department of Environmental Quality as barriers to environmental justice efforts.
"The MDEQ has been very lax in doing their jobs. They're very hesitant to issue violations, and they do not deny any permit," said Landrum.
Environmental justice and environmental racism are concepts that have been around for decades. The former aims to achieve equality for all in environmental decisions, procedures, and rules. The latter refers to the practice of establishing environmental hazards in or near communities of color and/or little means. The concepts are still unknown to many, but as climate change becomes a more critical issue, the concepts are gaining traction.
The EPA will continue to solicit public comments on its rulemaking through October 28.
"We live within a stones throw of a chemical storage tank," said Kelly. "It's very taxing on one's nerves to live in such a community, but [Port Arthur] is an area where the land is cheap and historically, it's the only area Black people could live, back in the '40s and '50s. So it just became a way of life."
Get Top Stories Delivered Weekly
More districtchronicles News Articles
Recent districtchronicles News Articles
Discuss This Article