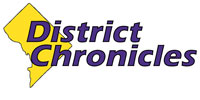 Post Classifieds
Ferguson residents urged to crowd voting booths
By Freddie Allen/NNPA Washington Correspondent
On September 8, 2014
WASHINGTON – In the aftermath of the shooting death of Michael Brown, an unarmed, Black teenager by a White police officer in Ferguson, Mo., and the social and political unrest that followed, civil rights leaders have urged citizens of the St. Louis County suburb to transform their community at the ballot box.
The revelation that Ferguson, a town that's nearly 70 percent Black, was represented by a White Republican mayor and a city council that was more than 80 percent White, shocked outsiders and many believed the lack of political voices contributed to the largely non-violent protests that erupted in Ferguson. Darren Wilson, the six-year police officer who shot and killed Brown on August 9, served on a Ferguson police department that is more than 90 percent White.
"What is troubling about Ferguson is the lack of voting representation of African Americans within that government and that has to change," said Barbara Arnwine, the president and executive director of the Lawyers' Committee for Civil Rights under Law.
Less than 12 percent of eligible voters in Ferguson cast ballots in 2013.
"Turnout is especially low among Ferguson's African-American residents, however. In 2013, for example, just 6 percent of eligible Black voters cast a ballot in Ferguson's municipal elections, as compared to 17 percent of White voters," according to ThinkProgress.org.
Even the voter turnout rates for the national midterm elections in 2010, which are usually lower than the turnout numbers for presidential elections, were nearly nine times higher than Black voter turnout in Ferguson during the last election cycle.
According to the Associated Press, Blacks outvoted Whites in both 2008 and 2012.
After President Obama drew sharp criticism from political pundits on the right and the left for his response to the killing of Brown, and the disconcerting images of St. Louis County police firing rubber bullets and tear gas at protesters, Pamela Meanes, the president-elect of the National Bar Association, said that President Obama can't win for losing
"If he was too passionate, individuals would say, 'he's [interfering] with the investigation,'" explained Meanes. "If he's too calm, people would say, 'he's not passionate enough.'"
Meanes added: "The real issue is whether or not his words touched the people of Ferguson. I think they did."
Last week, more than a dozen civil and human rights groups released a statement and list of recommendations for community stakeholders, law enforcement officials and lawmakers in an effort to address the killing of Black men at the hands of police officers across the nation.
The group called for "an independent and comprehensive federal investigation by the Department of Justice ... "
The recommendations, crafted by the civil rights groups, included comprehensive reviews of excessive use of force reports and killings by police officers on unarmed minorities, and the adoption of national standards on use of force for all law enforcement officers.
"The tragic killing of Michael Brown is not an isolated incident. This is emblematic of deficiencies disparities and discrimination in the American criminal justice system," said Janai Nelson, the associate director-counsel for the NAACP Legal Defense and Educational Fund. " It's a system that has been marred by racial profiling, by over-policing by excessive force by law enforcement and the killing and the extreme frustration that we see surrounding not only Michael Brown's death but the deaths of three other unarmed persons in little over a month."
A New York City police officer killed Eric Garner, 43, with a chokehold during an attempted arrest in July. On August 5, John Crawford III, 21, was fatally shot by police as he walked around a Wal-Mart talking on his cellphone and carrying a toy gun in Beavercreek, Ohio. Two days after Brown was killed, police shot and killed Ezell Ford, 25, a mentally disabled man in Los Angeles, Calif.
Nelson said, "We call on the Department of Justice not only to conduct a formal and independent investigation, but also to enact much needed structural reform of the United States criminal justice system and to address the pervasive and long-standing deficiencies in police practices and supervision and the widespread failure to deal with issues of racial bias in the criminal justice system, both implicit and explicit that result in the tragic deaths and mass incarceration of Americans of color.
Get Top Stories Delivered Weekly
More districtchronicles News Articles
Recent districtchronicles News Articles
Discuss This Article