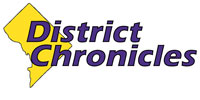 Post Classifieds
Metro Brief: Lockheed Martin donates $500,000 for girls STEM education
District of Columbia
On September 15, 2014
Girls Inc. National has received a one year, $500,000 grant from Lockheed Martin to strengthen its science, technology, engineering and math (STEM) programming for 500 girls ages 9-12.
Lockheed Martin's new financial commitment comes on the heels of a successful 2013 pilot program, which paired program participants with Lockheed Martin mentors at five Girls Inc. locations. At the conclusion of that program, girls reported increased interest in studying STEM, positive experiences with female role models and a heightened awareness that a STEM career is a good choice for girls.
Building on the success of the pilot program, Girls Inc. will work with 10 affiliates that will each offer multiple sessions of the 16-hour Science, Math and Relevant Technology (SMART) Partners program throughout the year-long grant period. This new partnership will ensure that significantly more girls consider and are interested in pursuing STEM careers.
"Our affiliate is thrilled to be partnering with Lockheed Martin on STEM initiatives for girls in our community," said Denese Lombardi, executive director of Girls Inc. of the Washington, D.C. Metro Area.
"Exposing and preparing girls for the many exciting STEM careers that await them is an important component of our local programming both after school and during the summers. Despite the obstacles they may face, we know that Girls Inc. girls are resilient and when given the right tools and information, they make good decisions for themselves and the positive impact of their success benefits all of society. We sincerely appreciate Lockheed Martin for its generosity and forward thinking."
Lockheed Martin Vice President Sharon Watts said her company understands the importance of investing in programs that help instill confidence in STEM in girls at a young age – and inspire them to consider a STEM career.
"Our nation's future competitiveness depends on a highly diverse STEM workforce," said Watts.
Additional program sites include Atlanta, Dallas, Denver, Houston, Huntsville (Alabama), Philadelphia / Southern New Jersey, Pinellas Park (Florida), and Syracuse (New York). An additional virtual site will be added later in 2014.
Get Top Stories Delivered Weekly
More districtchronicles News Articles
Recent districtchronicles News Articles
Discuss This Article