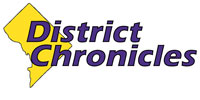 Post Classifieds
Metro Brief: Bison win fourth consecutive AT&T Nation's Football Classic
District of Columbia
On September 22, 2014
Howard's senior quarterback Greg McGhee enjoyed another terrific outing in Washington's annual black college showcase pitting Howard University against Morehouse.
McGhee rushed for three touchdowns and threw for two more to lead the Bison to a 35-17 victory over the Morehouse College Maroon Tigers in the fourth annual AT&T Nation's Football Classic before a crowd of 13,178 at RFK Stadium Saturday.
McGhee was named the Classic's Most Valuable Player for the third time. He was also named MVP of Howard's 2011 and 2013 victories. The Bison are now 4-0 in the Classic and their seven consecutive victories over Morehouse matches the longest winning streak for either team in the series.
"Every year, he gets better and better [in the Classic]," said Howard Head Coach Gary "Flea" Harrell. "I think he really set his goals to be the best player on the football field when we play this kind of game. He's very efficient."
Howard entered having lost its first two games this season, while Morehouse won its opener last weekend. But after Morehouse scored on its first possession for a short-lived lead, Howard controlled the game.
"Everybody on Howard's campus loves the [AT&T] Nation's Football Classic," said Howard running back Aquanius Freeman, who rushed for 72 yards and caught four passes for 43 yards. "Big environment. Big turnout. It's one of the biggest games of our year. Hopefully, we can come back next year. We thank you for letting us be a part of it."
While the Maroon Tigers came up short on the scoreboard, Head Coach Rich Freeman said his team will take plenty away from its trip to the nation's capital.
"This has been great for us," said Freeman. "We're happy we've been able to give our kids a first-rate experience, and we've been able to measure up against one of the finer teams in HBCU football. In my office, I have gigantic photos of pictures from the Classic – that's a big deal in Atlanta."
"The game started a little slow for us," said Howard Head coach Harrell. "But we were able to come out strong in the second half and third quarter. The edge for us was special teams. Our punter did a good job. Special teams really gave us an edge. And Greg McGhee was able to do a phenomenal job with his arms, with his legs, changing plays. We're almost there."
The game once again was the highlight of a weekend full of educational and entertaining events that began with a Presidential Symposium on issues facing HBCUs and the African-American community. That was followed by The Game Before the Game student debate, the AT&T Presidents' Reception and the AT&T Kickoff Rally. In the hours leading up to Saturday's game, singer-songwriters Adrian Marcel, Eric Bellinger and Jeremih were the main attractions at the Pepsi Fan Festival.
Prior to kickoff, Washington Mayor Vincent C. Gray welcomed the crowd and 2010 Miss District of Columbia International Chelsey Rodgers performed "Lift Every Voice."
Following the presentation of colors by the United States Marine Corps Inspection Guard from Joint Base Anacostia, Adrian Marcel performed the national anthem and former Super Bowl MVP and Morehouse coach Doug Williams conducted the pregame coin toss with Mayor Vincent C. Gray, Marine Corps Major General Mark A. Brilakis and DC Lottery's Gabrielle Barry.
The halftime show featured the highly anticipated "Battle of the Bands" between the Howard University Showtime Marching Band and the Morehouse College House of Funk.
Get Top Stories Delivered Weekly
More districtchronicles News Articles
Recent districtchronicles News Articles
Discuss This Article