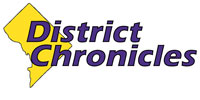 Post Classifieds
Howard students get it: "No justice, no profit!"
By James Clingman
On September 22, 2014
(NNPA) – In a previous article, I noted the scenario of Black people protesting while others profited: traveling across the nation to march and never marching into a Black hotel or restaurant, or to fill up at a Black-owned gas station. I ended that column by noting that we count people "at" our protests while others count profits "from" our protests.
Through the years, I have wondered when somebody would "get it." It took a group of young people who went to Ferguson, Mo., over the Labor Day weekend to give me hope.
The Howard University Student Association (HUSA), led by its incoming president, Leighton Watson, organized a 13-hour bus trip from Washington, D.C., to protest along with other students from Washington University in St. Louis, Mo., and other colleges. They went to stand with the residents of Ferguson to seek real solutions to the issues that plague that city.
An interesting thing happened on their way to the march: those young people marched to a Black company to charter their bus. When they got there, they marched to a Black restaurant to eat. They made every effort to find a Black-owned hotel, but the Roberts Hotel in St. Louis is closed. They did, however, manage to get accommodations at a Black-owned franchised hotel. They let their money speak as they protested. I even saw a sign that said, "No Justice, No Profit."
I was blessed to speak at a teleconference of HBCUs at which they sought appropriate responses to what took place in Ferguson, and what is taking place around the country between police officers and Black folks. The more I listened to the students, the more I knew that our future was in good hands. These students are not only intelligent, but also conscious and courageous enough to sacrifice for a just cause.
I could hardly hold back my emotions as I watched and listened. I thought about how long our elders, who now include me, have tried to make younger generations understand the priority of economic empowerment and leverage, how they have screamed at us to use our collective income to obtain reciprocity and equity in all areas of our lives.
I thought about Joshua and Caleb, two young men who were not afraid to stand up against what the older men thought was an unconquerable obstacle, which led to 40 years of meandering in the desert until the older generation died, leaving only Joshua and Caleb. Instead of cowering in the face of evil, the students were willing to "go into the land" and fight for a righteous cause, and they were willing to do it economically.
Howard students attended Ron Daniels' recent symposium in Washington, D.C. and Leighton Watson spoke from the perspective of young people, whom Daniels encouraged to be there and step forward to carry on the battle for justice.
Money runs politics and everything else in the world, and college students understand that withdrawing their consumer dollars from various product categories is the only way to get the attention of those who can put an end to the blatant injustice that festers in our land.
HUSA members will be featured on the Carl Nelson Radio Show each week on Fridays at 5 p.m. They will give updates on their overall activities, which is another great way to connect with even more students across the country and build a coalition in the mold of Joshua and Caleb.
I am so proud of the Black college students who have taken up the gauntlet by bringing not only their intelligence, but their energy and steadfastness to the frontlines.
Like Moses and Dr. King, I may not see it or get there with them, but I am confident in their ability to take us to the next level of economic empowerment: "No Justice, No Profit!"
Get Top Stories Delivered Weekly
More districtchronicles News Articles
Recent districtchronicles News Articles
Discuss This Article