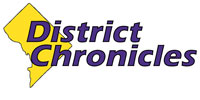 Post Classifieds
Crack houses transformed into safe homes
On October 13, 2014
Washington Nationals' Ian Desmond has designated an Anacostia after school safe house, The House DC, Inc., to share in his Roberto Clemente award during a pre-game ceremony Nationals Stadium.
Desmond's designation of The House DC, Inc. as his charity of choice kicks off the organization's celebration of 15 years of transforming the lives of students in Wards 7 and 8. The 15thAnniversary celebration included a banquet featuring an incredibly inspiring "Where Are They Now" reunion of former students including Erica Edwards who is a graduate of Trinity University, and the wife of a fellow House DC alumna.
"For 15 years, The House DC, Inc. has operated in the trenches, quietly and consistently empowering students in the Anacostia community to beat the odds," said La Wonda Bornstein, President & CEO of The House DC, Inc.
Driven by a passion to provide a safe place for Anacostia youth to "hang" after school, a group of concerned men led an effort which garnered the support of an impressive list of realtors, architects, construction contractors and others to transform three abandoned "crack houses" from sore spots into what is now the life source known as The House DC.
The facility has since provided thousands of high school students from Wards 7 and 8 a safe place to "hang" after school while learning to prepare and enjoy a hot balanced meal, in addition to providing them with academic/college entry support and strategic opportunities for healthy relationships and life-changing experiences.
"The total transformation of our students' outlook on life is beyond anything some thought possible," explained Bornstein. "Because of The House, students who wanted to take their own lives or even someone else's life now want to live-- and live well."'
The House DC's remarkable impact includes an estimated 97 percent high school graduation rate for students who attend their afterschool program, as well as first generation college enrollment or gainful employment for roughly the same percentage of attendees. The House DC's numerous successes will be the focus of an upcoming study at Baylor University led by Byron Johnson, Distinguished Professor of the Social Sciences, Director of the Institute for Studies of Religion, as well as director of Baylor's Program on Prosocial Behavior. Johnson also authored "More God Less Crime." Johnson will be a featured speaker at The House DC's anniversary banquet. Other speakers include Tim Pierson, Chaplain of the Washington Nationals; House DC co-founders and former NFL players Rickey Bolden and Steve Fitzhugh.
The anniversary celebration will conclude with a ribbon-cutting ceremony in November to celebrate the pro bono services of Turner Construction, MC Dean, Southland Industries, Architecture, Incorporated; Four Points LLC, and others.
Get Top Stories Delivered Weekly
More districtchronicles News Articles
Recent districtchronicles News Articles
Discuss This Article