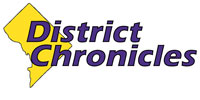 Post Classifieds
"Arts4All DC" celebrates local talent, galleries
By Briana Elvira Carter/Contributing Writer
On October 14, 2014
During a recent, signature event for "Art4All DC: One City, Four Quadrants, Arts Activated," lines stretched down the steps of residential homes and studio galleries throughout the Dupont Circle neighborhood, as art aficionados celebrated the three-week arts and culture showcase.
This year, through the efforts of the D.C. Commission on the Arts and Humanities (DCCAH), the event expanded beyond Washington's Shaw neighborhood and residents and visitors enjoyed a variety of gallery openings, music and visual art exhibitions in many areas throughout the city.
"Art All Night: Nuit Blanche D.C.," the festival's signature event in the Dupont Circle neighborhood of Washington, D.C., was based on a festival concept that began in Paris, France, according to a press release from Cultural Tourism DC.
"I love the expansion," exclaimed Rhona Wolfe Friedman, a commissioner on the DCCAH. "Now you are in Congress Heights, you're in Dupont, you're at Shaw, you're at H [Street N.E.]. People, who never get a chance to display their work, can do so now."
The "Art All Night" presentations were sprinkled all over the Dupont Circle neighborhood in 10 locations. Real estate broker by day and art dealer by night Yigal Rappaport opened his home on R Street N.W. to display his own personal art gallery for the festival. Rappaport explained that he is not an artist, but he does sell art.
"I have to buy what I like, and the price has to be well below," said Rappaport. "This is a part of my daily routine. I open my computer, see which places in this country have an auction event and I follow them. It teaches me a lot about the art by investigating the pieces."
Rappaport usually opens his home at least once every few months to the community. But the heavy traffic from art lovers that night exceeded his expectations.
"Unbelievable," said Rappaport. "Good people are here who like art and it's fantastic."
Guests to Rappaport's home walked through the front door and were immediately overwhelmed by art pieces that covered the walls from the ceiling to the floor. A stone-headed sculpture of a woman greeted everyone in the foyer, before they climbed the stairs of the three-story home.
Laleh Pouya, an employee at the United Nations High Commissioner for Refugees, began her art-filled night with eccentric portraits and African art from Rappaport's collection. She was amazed at how he transformed his personal home into a large art gallery for everyone to walk-through.
"He's very, very generous. He did a wonderful job placing everything exactly where it should be. His selection is great," said Pouya. "I cannot take my eyes off it. The sculptures are absolutely breathtaking."
This was Pouya's first year attending an "Art All Night" event and she didn't know that the art pieces on display at some of the galleries in Dupont Circle were for sale. She said that she would be more prepared next year to buy something.
"It's been a great experience, and I would recommend it to everybody," said Pouya, who attended the event with her friend. "We came here and I didn't expect it to be like this. It's more than what I expected. It's amazing."
One block from Rappaport's home, the Studio Gallery presented "Elementrees," an art exhibit by Rosabel Goodman-Everard. The white walls of the gallery were decorated with portraits of different-styled truncated trees. The inspiration for her exhibit began when she lived in Upper Northwest D.C., "under the trees," Goodman-Everard said.
"Somebody advised me to take one shape and play with that. It could have been round; it could have been a square or a rectangle," said Goodman-Everard. "I took a truncated tree, so I started to play with that."
As Goodman-Everard began to learn more about trees, her fondness for their beauty and inspiration grew stronger.
"They are powerful symbols for humans," said Goodman-Everard. "They stand for connection, they stand for longevity and they stand for solidity. All the things we yearn for as human beings."
Will Bracey, a resident from the Baltimore area, traveled to the city to experience the event. He caught word about the night-long festival through a radio announcement.
"I thought it was similar to an event I had been to previously, 'Artomatic' in Virginia," said Bracey. "I knew it was free. They said they had music and a lot of art in like five different sections of the city. That's what drew me to come."
It was an adventure to find the assorted galleries throughout the Dupont Circle area, but Bracey said that once he received a brochure, he just fell into step.
"I know it's a lot of roundabouts in this area, and eventually I said, 'let me follow the crowd.'"
Bracey said that he enjoyed the art galleries, in particular Goodman-Everard's exhibit, but he appreciated the atmosphere and the diverse crowd more.
"That's what I like, too. You see Asians, you see Blacks, you see Whites, you see everybody," said Bracey. "You have a chance to meet people that you may have not probably met otherwise."
The last signature event for the 2014 Art4All DC festival will take place on October 18 in Washington's Adams Morgan neighborhood from 3 p.m. to 7 p.m. For more information about the festival, visit CulturalTourismDC.org.
Get Top Stories Delivered Weekly
More districtchronicles News Articles
Recent districtchronicles News Articles
Discuss This Article