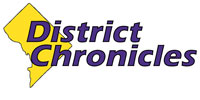 Post Classifieds
Mayoral candidates spar on making DC livable for seniors
By Glynn A. Hill/Howard University News Service
On October 20, 2014
In a calmer, less-heated forum than their previous debate, mayoral candidates Muriel Bowser, David Catania and Carol Schwartz took turns speaking about their respective plans and platforms to a small crowd during an election event sponsored by AARP at Mount Vernon Place United Methodist Church in northwest Washington.
The forum, co-moderated by Denise Rolark Barnes, publisher of the Washington Informer, and Katherine Shelley Broderick, dean of the University of the District of Columbia Law School, focused on topics of health care access, education, and how to make D.C. more livable and affordable to elder residents.
City Councilmember Bowser, the Democratic nominee, pledged to provide safe and affordable transportation and housing options for Washington residents, particularly seniors. She stressed her commitment to attract civically responsible businesses to the District.
Bowser, the Ward 4 representative since 2007, cited her record of trying to improve the lives of seniors while on council, including the expansion of a senior property tax credit, providing options for seniors to continue to live in the District in their own homes, and getting the government to support initiatives that are friendly to senior residents. "It's not just about brick and mortar or transportation issues," said Bowser. "It's about how people can live fulfilling lives."
Bowser has committed to making sure D.C. residents get benefits through the Program of All-inclusive Care for the Elderly (PACE), a program that focuses on providing for seniors with chronic care needs in their own homes versus in nursing homes and other facilities. She also promised to provide more volunteer and employment opportunities for seniors and to appoint a deputy mayor to help create jobs and economic development with seniors in mind.
Independent nominee Catania, a City Councilmember since 1997, cited his accomplishments in health care as chair of the council's health committee from 2005 to 2012, such as helping to cut the number of AIDS cases and deaths in the District and working to help save the United Medical Center in Ward 8.
He also stressed his accomplishments while chairing the City Council's Committee on Education, his current position, including the fair-funding bill that aims to provide the resources necessary to ensure all students receive a quality education.
Catania also wants to bring PACE to Washington. According to Catania, DC is in need of "a robust 911 system and a robust EMS and fire system." He also stressed the importance of seniors having access to pharmaceuticals.
In his closing, Catania, the city's first openly-gay mayoral candidate, talked about failures in the public school system and special education and his work to improve them through legislation introduced earlier this year.
Schwartz, the Republican nominee, described herself as an "elderly watchdog." She said her proudest accomplishment has been providing sick leave in the private sector.
A mayoral candidate for the fifth time, Schwartz said one way to improve and insure better treatment of all Washington citizens is to keep those services among city workers and not contract them to private companies.
"I always believed our own government workers should take care of our people," said Schwartz, who also wants to hire workers who are District residents.
She talked about her whistleblower protection law and stressed emergency preparedness for seniors so that "fire trucks don't arrive when you need an ambulance."
Schwartz also wants to expand the city's summer youth program to include a component in which younger residents teach older residents in the District and surrounding suburbs technical skills. She said she intends to implement programs that provide the opportunity for the elderly to participate, such as providing volunteer tutoring and employment opportunities for seniors.
Get Top Stories Delivered Weekly
More districtchronicles News Articles
Recent districtchronicles News Articles
Discuss This Article