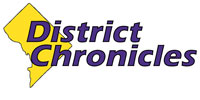 Post Classifieds
Court rules Virginia LGBT lovers can marry
By Ashley Young/Contributing writer
On October 20, 2014
Steven Sprouse and Wolfgang Umana are not engaged, but last Monday, both were ecstatic when they learned they could get married in their home state of Virginia after the U.S. Supreme Court declined to hear appeals from Virginia, Indiana, Oklahoma, Utah and Wisconsin seeking to declare same-sex marriages unconstitutional.
The court's action meant that in Virgina, 29 other states, and the District of Columbia, same-sex couples can get married. Six other states which currently have bans may soon be overturned too.
"It felt like Virginia was going to be the last state to approve it," said Umana, an IT consultant who lives in Fairfax. "To have them do this, and not be even among the last states to do it is such an honor. It feels really good to be able to do it now."
In the past, couples who lived in Virginia got married in D.C., where same-sex marriage is legal. Since the appeal cases were denied, Virginia lovers rushed to the courthouse last Friday to wed in their home state.
A year after the Supreme Court ruling in United States v. Windsor that struck down parts of the Defense of Marriage Act, states have the authority to approve or deny same-sex marriage.
Steven Sprouse, a communications manager at the Society for Human Resource Management in Fairfax, said it's been a snowball effect for states to make same-sex marriage legal.
"Look in the past year how many states have just become legal. I think that in the next five years or so, you're going to see pretty much universal acceptance. I'm hoping at least," said Sprouse.
While it's considered a small victory for the LGBT community, advocates felt it was a missed opportunity for the Supreme Court to grant same-sex marriage in all 50 states.
"We all know it's going to be inevitable so why drag it out? It kind of disappoints us that they are not picking it up and moving things forward," said Ernest Walker, director of programs at Us Helping Us, a gay and bi-sexual organzaiton in northwest Washington, D.C. "It doesn't matter what lifestyle you have, it's an American right to have equality." Professional dancer Parris Lacey knows opponents of same-sex marriage won't go down without a fight. "I feel a sense of rejoice, not relief yet, but rejoice," said Lacey.
The National Organization for Marriage, a non-profit organization opposed to same-sex marriage, decried the Supreme Court's inaction. Mike Brown, president of the organization, said in a blog post, "This is not a democracy: it is judicial tyranny."
Three states which may soon feel the effects of court's decision to not take up appeals will most likely have to rid their same-sex marriage bans. Wyoming, Kansas and South Carolina state officials said they would fight in court to keep the bans in place.
Religion has played a major role in shaping the argument for opponents of same-sex marriage. But more churches are opening up to the LGBT community.
"I think faith and Christianity are more about compassion, acceptance, justice," said Rev. Robert Bell, interim pastor at Fifteenth Street Presbyterian Church. "If you go down that route it's very difficult to exclude folks or not promote it in some way. I don't think there's much Biblical substance to anti-homosexual beliefs, thoughts and prejudices. You don't find it in Jesus' teaching, you don't find it in the Prophets, you don't find it in the Ten Commandments. If it was such a big deal, you'd see it somewhere."
Congresswoman Eleanor Holmes Norton (D-DC) also celebrated the Supreme Court decision.
"It is virtually inevitable that at a later date the Supreme Court will rule on the constitutionality of same-sex marriage bans," said Norton. "However, the writing is on the wall considering the Court's recent decision striking down a provision in the Defense of Marriage Act that denied federal benefits to same-sex marriages in states where it was legal and the expansion of same-sex marriage to 30 states after today's ruling."
Virginia Gov. Terry McAuliffe is on board, too, for same-sex married couples to even adopt children.
"Now that same-sex marriage in Virginia is officially legal, we owe it to all Virginians to ensure that every couple is treated equally under all of our laws, no matter whom they love," said McAuliffe in a press statement.
"We have a life that we could look forward to, getting married, sharing stuff, purchasing homes together, adopting children together. Those are all things that should be afforded to us that are afforded to everyone else."
Get Top Stories Delivered Weekly
More districtchronicles News Articles
Recent districtchronicles News Articles
Discuss This Article