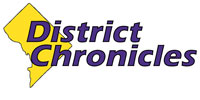 Post Classifieds
Book review: "What I Know for Sure" by Oprah Winfrey
By Terri Schlichenmeyer/Book Critic
On October 27, 2014
"Death and taxes." That's what they used to say were the only things in life that you could count on. Neither one was escapable; both were consistent.
You can also bet that night will follow day, and that there's good in the world somewhere. You know rules were meant to be broken and that hearts can mend. And after listening to "What I Know for Sure" by Oprah Winfrey, you'll learn a few other things you can rely on as well..
Years ago, during an interview, the great Gene Siskel asked Winfrey what she knew for sure. Winfrey was "at a complete loss for words …"
"At the end of the day," said Winfrey "what exactly do I know for sure?"
The answer was in 14 years' worth of her magazine columns – and in this book.
When she had Tina Turner on her show, for instance, Winfrey was nervous and self-conscious about being Turner's back-up dancer until, "in an instant," she realized the joy of seizing the moment. Enjoy yourself, said Winfrey "because this moment is about to be over."
Treasure your neighbors and friends, said Winfrey, and take time to play. Read books. Look for connections with others, but remember that you control your own life. Know that who you are supposed to be has a lot to do with who you are now. Communicate, but know when to be quiet. Understand that love doesn't have to be in the romantic sense.
Learn the power of "thank you" – and that includes gratitude for yourself and the body you've got. Take care of that body. Embrace growing older. Look for miracles. Be ready to give, but learn to say "no."
And remember: "If you're holding anyone else accountable for your happiness, you're wasting your time." Be fearless. Be compassionate. "Keep moving."
In my opinion, an audiobook recording is better when the author is reading. In this case, "What I Know for Sure" is a double delight because … well, it's Oprah.
Indeed, I couldn't imagine anyone other than author Winfrey presenting this book – in part, because only Winfrey can relay the excitement we know well from her TV shows.
She adds so much emotion to this audiobook; we feel the joy, the heartbreak, and the fun about which she talks. In the midst of it all lays solid advice, ideas that are useful for anyone, and stories that are perfectly entertaining.
This is an easy audiobook to listen to because it's filled with positivity … and Oprah!. And if you're a fan, then "What I Know For Sure" is an audiobook I think you'll love to death.
Get Top Stories Delivered Weekly
More districtchronicles News Articles
Recent districtchronicles News Articles
Discuss This Article