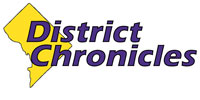 Post Classifieds
Two parents are key to raising a child
By Jineea Butler/NNPA Columnist
On October 27, 2014
It is very important that we focus on building strong households and foundations that will survive the test of time. Our children are underperforming in every area possible because we are not preparing them to compete. In the next 20 years, what will the world look like? Can we afford not to fight for positioning?
We complained for years that we were brought here against our will, and now what? We have the opportunity to carve a place for ourselves to survive the next 100 years. We must work together and be strategic.
In that vein, I want to congratulate men who take care of their children and play a significant role in their growth. A father is one of the most important elements in the blueprint for a successful offspring.
Many Black men are stepping up to the plate to fatherhood, but too many of them are being met with drama from the child's mother.
But it is not enough to love your child unconditionally, yet not love and marry the child's mother. Our women cannot be lied to, left with a broken heart, a new baby and life, and be expected to raise the next generation of kings.
A woman can decide to have a child with a man for a number of reasons: as a symbol representing their love, to keep a man, or because they are married and planning a family.
The only answer should be because they are married and planning a family. How can you say you want a child with someone but don't want to get married? Why are you having a child if you can't commit to raising it as a family?
Why are so many of our children being raised by single parents? It is because generations are repeating themselves. If you did not have any positive examples of marriage or love to learn from what are you basing your viewpoint on?
We become repeat offenders when we, too, have children out of wedlock. If our children were the most important gift to us, we would wait until we are husband and wife to assist with raising our children into quality citizens.
We need to collectively agree to rebuild our community into a community of husbands and wives. That means we have to change the way we are seeking relationships, parenting and raising our children. There is no way around it.
Jineea Butler is founder of the Social Services of Hip Hop and the Hip Hop Union. She can be reached at jineea@gmail.com or on Twitter at @flygirlladyjay.
Get Top Stories Delivered Weekly
More districtchronicles News Articles
Recent districtchronicles News Articles
Discuss This Article