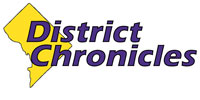 Post Classifieds
Howard, Georgetown students stump for Democratic candidates
By Jailyn Anderson/Contributing writer
On November 3, 2014
Early voting for November 4 midterm elections has begun in the DMV. At Southern Regional Technology and Recreation Complex on Bock Road in Fort Washington, Prince George's County for example, elections officials there said 1100 people voted on Thursday, the first day of early voting. Elections Administrator Alicia Alexander confirmed that 5, 614 voters voted in the PGC County in the first three days of early voting.
Down at Howard University the Howard University College Democrats are gearing up to encourage fellow students to vote not to sit out next week's elections.
"Midterms are terribly important for a number of reasons, says Said Kelli Slater, communications director of the Howard University College Democrats. "This Congress has the lowest approval rating in our country's history. Our representatives in Congress are so gridlocked they shut the government down around this time last year because they couldn't agree on a budget. We can't risk another government shut down.
"These races are also important because our country is facing a pivotal time in history right now, with the LGBTQ battle for same-sex marriage, our desperate need for immigration reform, and threats abroad. We need leaders that will act courageously when faced with tough issues."
In the final days of campaigning, Slater said Howard students will be canvassing in DC neighborhoods, encouraging voting. They are teaming up with Georgetown University Democrats on a get out the vote trip to West Virginia to campaign for Democratic candidates there, starting tomorrow returning on Sunday.
Several out-of-state students who will be knocking at doors to get voters to polling sites have cast their absentee ballots in their home states. Adriyanna Andreus, secretary of the Howard Democrats eBoard, for example, has cast her absentee vote in Dover, New Jersey. Communications Director Slater sent her absentee ballot back to Terry, Mississippi. Treasurer Monique Harvey mailed her ballot to Colorado.
In West Virginia the students will be campaigning for John Foust a Democrat running for re-election in the U. S. House of Representatives. Foust is advocating creation of more jobs for the middle class, improving education for pre-K and K-12. While he plans to make college more affordable for everyone he also plans to improve transportation, the environment and much more.
They will also be canvassing for Senator Mark Warner, who is running for re-election.
Republicans are expected to keep control of the 435-seat House of Representatives. But they have invested millions of dollars in trying to control the Senate, too. Pollsters are giving the Democrats a 50 – 50 chance of retaining the Senate.
Thirty-three of the 100 seats in the Senate are contested, but the results in only 12 seats are expected to determine who will control the Senate, with the outcome hinging on youth, Black and Hispanic voters turnout in large numbers in those states. These 12 states include Alaska, Arkansas, Colorado, Georgia, Iowa, Kansas, Kentucky, Louisiana, Michigan, New Hampshire, North Carolina and South Dakota.
Noah Lyons, executive assistant of the Howard University College of Democrats, believes this year's midterm election is equally important as the presidential election held in 2012.
"It is one of the best opportunities for us as people to truly change our communities," Lyons said. "In the 2012 presidential election, the turnout rate for blacks was 67%. For the 2010 midterms, it was 41%." As a result, the Republicans and their Tea Party partners in Congress have been able to stymie President Obama's political agenda, Lyons said.
"For us to get leaders who are representative of us in both skin tone and policy, we need to vote," Lyons said. "We must remember that having a black president speaks of progress but having black congress people, mayors and city council people screams change and power."
Get Top Stories Delivered Weekly
More districtchronicles News Articles
Recent districtchronicles News Articles
Discuss This Article