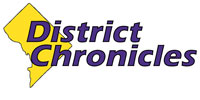 Post Classifieds
The UNCF "Empower Me Tour" Inspires Students in D.C.
By Briana Elvira Carter/Contributing Writer
On November 5, 2014
The United Negro College Fund (UNCF) "Empower Me Tour" recently celebrated its seventh year at the historic Paul Laurence Dunbar Senior High School in Northwest Washington, D.C. High school students, college students, and parents, participated in the event that featured college- and career-readiness panels, college recruitment booths and a special appearance by tour co-host and television entertainer Lance Gross.
The tour, created in partnership with Wells Fargo, was designed to prepare students to get to and through college and inspire them to take control of their future by using education as the foundation for achieving their goals and dreams, according to a UNCF "Empower Me Tour" press release.
"We bring Wells Fargo team members to help out with the event, but also have conversations one on one with students and their family," said David Houston, a senior relationship manager and vice at Wells Fargo. "To [help students] understand how they can leverage, not only Wells Fargo's resources, but also work all the resources available in their community to help with their education needs."
Gross, the star of Tyler Perry's award-winning "House of Payne" and a graduate of Howard University in Washington, D.C. wanted to inspire students to continue down the path of higher education.
"We are all here on this panel to just motivate, strengthen their drive to attend college, stay in college, and to finish college," said Gross. "We have some great people on this panel, so I just hope they take something away and just remember."
Gross was accompanied by National Urban League Young Professionals President Brandi Richard, lifestyle expert and entrepreneur Aaron Paxton Arnold, and Howard University student government association President Leighton Watson. Each panelist shared their personal journey in education about their college experience with the students.
"I've always let the word[s] 'no' and 'can't 'be my driving force," said Gross. "I have twin sisters, who are seven years older than me. My parents wouldn't let them go to Howard; they wanted to go to Howard. Being the girls, my parents did not want them to leave home."
Lance remembered demanding he attend Howard once he was of age. He explained it as using his sisters' 'no' as his 'yes' to attend a school of his decision.
"When I stepped on the campus of Howard University, it felt like a home away from home. It was this certain comfort about Howard University that I just immediately felt. I felt like I had a place there and I was excited to go to Howard," said Gross, who explained that the TV show "Different World" influenced his perception about attending a HBCU as well. "As a kid, I always wanted to go to a HBCU."
Gross's most memorable experience at Howard was freshman orientation.
"Howard was so welcoming; it was like a family away from my actual family. It was the professors, the Campus Pals," said Gross, who graduated with a bachelor's degree. "It was important to me, because I knew what I was there for. It was to get my education and also to finish. "
Wells Fargo, Proctor & Gamble and FedEx are supporting sponsors of the UNCF Empower Me Tour for D.C. Proctor & Gamble's "My Black is Beautiful" platform was designed to engage and broaden the dialogue about black beauty.
Valeisha Butterfield-Jones', co-founder of Women in Entertainment Empowerment Network (WEEN), a and the host of the "Girl Talk" series panel, said that her mission is to empower and educate the youth and women through panel sessions and her book, "The Girl Print."
"It's all about self-esteem and mentorship," said Butterfield-Jones. "We talk about inner and outer beauty and the role it plays in society and with our young girls. So, we are going to tackle things [like] body image and natural hair versus [processed hair], and just the way young women view themselves in high school and in college."
She encouraged female college students to become a member of WEEN, for free, and gain mentorship experience from entertainment executives, television hosts, and corporate executives from Black Entertainment Television (BET).
"Once you become a part of the program, we then start aligning and pairing you with strong female mentors in the field that you would like to pursue,' said Butterfield-Jones.
In addition to the educational and empowerment panels, students were encouraged to visit the "College Zone" on the ground floor that included ten recruiting HBCU tables.
Folashade Anderson, a 1998 Tuskegee University alumna, said that Tuskegee University's alumni club in Washington, D.C ., supports the school through recruiting efforts and attending college fairs in the area.
"We specifically decided to do the UNCF college fair, because the UNCF has done so much for historically black colleges and universities and it's a venue where we can get more students informed about Tuskegee and interested in the university," said Anderson.
Anderson valued the "Empower Me Tour" for creating an enlightened event for future college students.
"The schedule is pretty in-depth, with respect to how you pay for college and what to expect when you go to college," said Anderson. "Then they have the college fair to marry with the additional information they are giving, both students and parents."
Aden Coleman, a junior from Crossland High School in Temple Hills, Md., walked away from the panels with more than encouragement to attend college. The tour made him take a harder look at attending a HBCU over a predominately White institution.
"I feel more comfortable and more supportive when I see people of my color," said Coleman. "It feels like I can take the whole race element out, if I am in a HBCU. I can be more focused on my education."
The Empower Me Tour's next stop is at the University of Southern California, Los Angeles, Calif., on November 22.
Get Top Stories Delivered Weekly
More districtchronicles News Articles
Recent districtchronicles News Articles
Discuss This Article