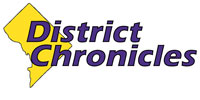 Post Classifieds
Republican Hogan scores huge upset over Brown
By Daniel White/Howard University News Service
On November 10, 2014
ANNAPOLIS, Md. – In a stunning upset, Republican Lawrence J. "Larry" Hogan defeated Democratic favorite Lt. Gov. Anthony Brown to become governor of Maryland, part of a dramatic string of Republican victories during the 2014 Midterm Elections..
In a night full of Democratic heartbreak, the Maryland governor's race, which Hogan called Tuesday's biggest upset, was a changing of the guard for the state.
Hogan's victory, at least temporarily, ended Brown's dream to become the first black governor of Maryland and only the third African-American governor in the nation's history. Doug Wilder once served as the governor of Virginia and Deval Patrick is the sitting governor of Massachusetts.
"This is the largest mandate for change in Maryland in 63 years," Hogan told the enthusiastic crowd during his acceptance speech.
Hogan is only the second Republican governor of Maryland since Spiro Agnew left office in 1969. Republican Robert Ehrlich served as governor in Maryland from 2003 to 2007.
Hogan won by a margin of 4.7 percent of the vote, or with 76,596 more votes than Brown, despite losing more than 200,000 votes in Montgomery and Prince George's counties, key indicators of Maryland Gubernatorial success.
"Prince George's County, Montgomery County and Baltimore will wake up to the fact that nothing from nothing leaves nothing and that's what you get with Brown-O'Malley," said Isa Shah, a 77-year-old Baltimore Republican, who voted for Obama – twice.
Shah is representative of many Maryland residents who see Brown as politics as usual, an extension of the administration of Democratic Gov. Martin O'Malley.
Voters don't see that with Hogan. At his election party, supporters chanted "We Want Hogan," before he came out, and "Larry" after his speech.
Hogan is a true native of Maryland. His father, former Republican U.S. Rep. Lawrence J. Hogan Sr., represented the 5th congressional district of Maryland. In his acceptance, Hogan thanked his father, acknowledging the continuation of his legacy, saying "40 years later, we're going to have a Hogan for governor."
"I'm excited because as we were traveling across the state talking to people from both the Republican and Democrat parties, they were looking for a change and I believe this is it," said Shelley Aloi, a candidate for lieutenant governor this summer.
If Maryland is to see any change, warned Hogan, then there is much to be done.
"It doesn't matter what party," he told the crowd at his victory party. "It doesn't matter whether you voted for us or not. Starting tomorrow lets work to make our state better."
Get Top Stories Delivered Weekly
More districtchronicles News Articles
Recent districtchronicles News Articles
Discuss This Article