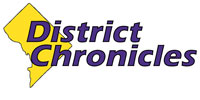 Post Classifieds
Bowser wins, keeps Dem streak alive in D.C.
By Tonesha Townsel Howard/University News Service
On November 10, 2014
WASHINGTON – With strains of Alicia Keyes' "Girl on Fire" blasting through speakers in the famous Howard Theater, newly-elected Mayor Muriel Bowser stood surrounded Tuesday night by family and supporters as confetti fell from the ceiling and the deafening sound of corks exploding off the victory champagne engulfed the room.
Bowser, 42, a City Councilmember who grew up in the city's Fourth Ward becomes the seventh black and seventh Democratic mayor of the nation's capital. She soundly defeated her Republican-turned-Independent Party candidate David Catania, also a City Councilmember, by taking 55 percent of the vote to Catania's 34 percent.
Bowser, surrounded by her fellow City Council members and other supporters, was greeted by a sea of yellow and green signs reading "Vote Muriel" as she gave her acceptance speech.
"I've dedicated my life to serving my neighbors in Riggs Park and this city," Bowser said. "I'm humbled and I'm grateful to stand here as the next mayor of my hometown."
With her victory, Bowser becomes the second African-American woman to be elected mayor of the District Columbia.
Sandra Phillips-Gilbert, Advisory Neighborhood Commissioner of city's Ward 6, said she believed Bowser was the perfect person to lead the city at this juncture.
"She makes me so proud to be a woman," Phillips-Gilbert said. "She's confident, intelligent and smart. Her campaign was positive, nothing negative at all. "She gives hope. She's strategic. I pride her on being able to knock on doors and really meet the people."
Bowser served seven years as a council member for Ward 4 before running for mayor. Her platform focused on neighborhood issues, such as education and closing the wage between the middle class and lower class,.
" I stand here like all of you on the shoulders of those who sacrificed so that we may be here," Bowser says. " I stand on their shoulders and I take a great deal of responsibility and I will do my best everyday to never let them down."
Bowser's opponent, David Catania, conceded his bid for election just blocks away from where Bowser and her supporters were celebrating.
He sent a message to his staff to be supportive of the mayor's efforts.
"I want you to offer your hand to our mayor so that she succeeds in making this city amazing," he said. "Take the spirit of not giving up and use it to support our new mayor."
While the city has been growing exponentially over the past few years, Bowser faces a number of issues, particularly housing. As Whites have flooded into the city from the suburbs and beyond, many older black residents have found the city unaffordable.
Students at local universities, too, long a stable in the city, have also found housing beyond their grasp as gentrification takes hold.
Get Top Stories Delivered Weekly
More districtchronicles News Articles
Recent districtchronicles News Articles
Discuss This Article