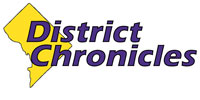 Post Classifieds
Student's election day journey: from non-voter to electioneer
By Tatyana Hopkins/Howard University News Service
On November 26, 2014
It's been said that you should never talk religion or politics with someone you have met. So what about electioneers? Have you ever wondered what motivates those people to hand out flyers at the voting polls in a last-minute effort to convince voters to vote for their candidate?
If you are me, you walked out of your dorm, with no classes, and hopped in a car with three strange women who agreed to give you $50 in exchange for you handing out their "literature" outside the polls.
They take you around the corner, to a neighborhood you have never seen, hand you a pile of papers, arrange a few signs outside the poll, exchange numbers, place you as close as possible to the legal electioneering boundary and promise to be back soon.
Nearly 10 minutes into my shift, another electioneer approached me and said, "I hate, hate, hate your candidate. She always hires college students who aren't from here and can't even vote here to work for her," he replied.
When I explained to him that I was from Connecticut, and was not voting, it was understood that I was precisely one of the students he was talking about.
Before then, I figured that the others must have had similar motivations to mine for being there. I thought maybe they, too, had been offered small incentives for their time and support, but the longer I stood among the crowd of people passing out flyers and badgering seemingly uninterested voters with their campaign rhetoric, and the more I began to speak with them, I learned many of them had very personal and long-time connections to the campaigns they worked for.
Alongside positive comments about their own candidates, many of the representatives recited electoral history, discontent with certain candidates and hope for change in their communities.
Two of the women that I stood alongside were mothers of candidates running for the same Advisory Neighborhood Council position, one coming from New York and the other Virginia. They had both stood and enthusiastically promoted their sons, and planned to do so until polls closed. Other supporters stood as friends of candidates on the ballot and others are concerned civilians. So, how could my civic participation become so superficial?
According to a study by the Pew Center, non-voters are more likely to be non-White, younger than 30, and to have a family income of less than $30,000.
This would be the first election in which I was legally old enough to vote, yet I had not participated at any meaningful level.
Those people at the polls, handing out flyers, voting, working the polls, were making an investment in their community. Down to the most local position on the ballot, campaign representatives reached out to the limited number of voters walking into Garrison Elementary School out of genuine concern for the future of their community.
I realized that no matter how mobile the world has gotten, how busy I felt, or how poorly I felt candidates had reached me, I had a responsibility to educate myself because on this night, whether I agree with the policies of the elected officials or not, I did nothing to support them or prevent them from entering into office.
Get Top Stories Delivered Weekly
More districtchronicles News Articles
Recent districtchronicles News Articles
Discuss This Article