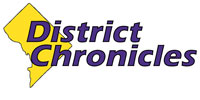 Post Classifieds
Metro Brief: Norton seeks Congressional revocation of tax-exempt status for Red Skins
District of Columbia
On November 27, 2014
Congresswoman Eleanor Holmes Norton (D-DC) has introduced a bill that would amend section 501 of the Internal Revenue Code of 1986 to prohibit tax-exempt status for professional sports leagues that promote or allow a member club or franchise to benefit from the Washington football team name, a derogatory term that has officially been found offensive.
Norton's bill is the House companion bill to Senator Maria Cantwell's (D-WA) bill, S. 2884.
Federal Communications Commission chair and one other commissioner have also indicated that they personally opposed the team name. Norton has urged the FCC to begin its own process to prevent on-air use of the team name, particularly considering the U.S. Patent and Trademark Office has also concluded that the name is derogatory.
In June, the Commission canceled the Red Skins" trademark registration, but the decision has been appealed. Last year, Norton was one of the nine original cosponsors of H.R. 1278, the Non-Disparagement of Native American Persons or Peoples in Trademark Registration Act, which calls for the cancelation of existing trademark registrations containing the Washington football team's name.
Norton also joined several of her colleagues in sending a letter to NFL Commissioner Roger Goodell, Red Skins sponsor FedEx, Red Skin owner Dan Snyder and the 31 other NFL franchises, urging them to support a changing the team's name.
Introducing the bill, Norton told the legislators the National Football League is a not-for-profit business league with tax-exempt status. But the NFL is the nation's largest sports franchise, generating almost $10 billion a year.
"Unlike some of its counterparts – the National Basketball Association and Major League Baseball, for example – it operates as a nonprofit, which allows for its profits to trickle down to its 32 teams, including the Washington football team," she said.
Norton noted that more than 300 Native American tribes, two million Native Americans, and religious and human rights organizations have called on NFL Commissioner Roger Goodell and Red Skin owner Daniel Snyder to change the name of the Washington football team because the name and mascot insult native people.
Get Top Stories Delivered Weekly
More districtchronicles News Articles
Recent districtchronicles News Articles
Discuss This Article