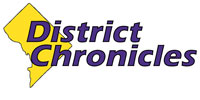 Post Classifieds
Obama takes on GOP-controlled Congress on immigration
By District Chronicles staff
On December 1, 2014
For six years, President Obama tried to work with a divided Congress. He really believed that a Democratically controlled Senate and a GOP-controlled House of Representatives could give him an immigration reform bill he could sign. It didn't happen.
After the November 4 Midterm Election, which gave the Senate and the House of Representatives to Republicans, he saw no hope of that ever happening. On June 20, he took to the airwaves, issuing a televised executive immigration order, giving an estimated 5 of 11 million undocumented immigrants protection from deportation.
Under the president's plan, parents of U.S. citizens and permanent residents would be able to apply for work permits and deferred deportation. The order would also offer protection for more immigrants brought to the United States illegally as children. The order also charges the Department of Homeland Security to focus on illegal immigrants with criminal records, gang affiliations or ties to terrorvism.
"To those members of Congress who question my authority to make our immigration system work better, or question the wisdom of me acting where Congress has failed, I have one answer: Pass a bill," he told the nation on June 20.
It was like waving a red flag in front of a raging bull. Republicans and opponents of immigration reform went ballistic.
A day after the televised Executive Order, Nathan Mehrens, president of conservative Americans for Limited Government, accused the president of setting up a "constitutional crisis." Mehrens called the Executive Order an "illegal alien amnesty plan."
"Last night's pronouncement by President Barack Obama that he will change our nation's immigration laws with the stroke of his pen sets up a profound constitutional crisis, said Mehren in a press release. "If Obama is allowed to impose changes in law that Congress has specifically rejected, it sets an irreversible precedent that forever changes the separation of powers between the two branches.
"Congress must immediately return to Washington, D.C., and defund every aspect of the announced amnesty. Acquiescence to this constitutional power grab is not an option."
But not all Republicans embraced fighting Obama by defunding his unilateral immigration action. According to a House Appropriations Committee spokeswoman, defunding would be "impossible," because Citizenship and Immigration Services is funded through fees, not congressional appropriations, reported liberal website Daily KOs.
House Speaker John Boehner immediately filed a lawsuit against the president.
"We're working with our members and looking at the options that are available to us, but I will say to you, the House will, in fact, act," said Boehner in a news conference at the Capitol, hinting at one possible action the Republican-controlled Congress is considering: Impeaching the president.
Republican National Committee Chairman Reince Priebus called the President's action "executive overreach."
"We are a nation of immigrants, and we are also a nation of laws and limited executive power," said Priebus in a statement." The Constitution does not grant the president the power to act as a one-man legislature when he disagrees with Congress. The American people rejected the administration's policies during the midterms; they will do so again in 2016."
The Tea Party Economist, a free daily digital subscription service from Ron Paul's original staff economist Gary North, challenged "some Republican to announce today that " he is "running to repeal Obama Amnesty."
This is a moment of opportunity, said North. "Some Republican senator or governor should announce his candidacy for the Republican nomination for President in 2016. He should announce his reason: "I will repeal by executive order President Obama's executive action granting amnesty to five million illegal aliens.
"My first act as President will be to repeal this unconstitutional monstrosity. I will sign my executive order when I give my inaugural address."
But, what Republicans saw as amnesty, Washington, D.C.'s Congressional Delegate Eleanor Holmes Norton saw as "family solidifying Executive Immigration Reform, following bi-partisan precedents."
"The President's family stabilizing executive actions continue the tradition of American presidents of both parties, most recently Presidents Bush and Reagan in the 1980s and 1990s, who moved to stabilize families when Congress had not," Norton said in a press statement.
Get Top Stories Delivered Weekly
More districtchronicles News Articles
Recent districtchronicles News Articles
Discuss This Article