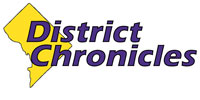 Post Classifieds
Metro Brief: Prince George's Council approves human trafficking legislation
Prince George's County
On December 1, 2014
The Prince George's County Council meeting during the council's final session of legislative year 2014 last week, voted unanimously to approve Council Bill 79-2014, Council Bill 80-2014 and Council Bill 81-2014, a triad of legislation directly addressing the issue of human trafficking in Prince George's County.
Council Bill 79-2014 prohibits lodging establishments from renting rooms by the hour. Council Bill 80-2014 requires lodging establishments to provide employee training on how to identify human trafficking victims and activities. Council Bill 81-2014 amends County Code provisions for the licensing of massage establishments, operators, managers and technicians to require certain types of information.
Council Member Karen R. Toles, chair of the Council's Public Safety and Fiscal Management (PSFM) committee and sponsor of the legislation, says human trafficking is a pervasive public safety issue that must be addressed.
"We want to use every tool at our disposal to stem the tide of human trafficking in Prince George's County," said Toles. "The legislation enacted today is a definitive step in the right direction. Through the collaborative efforts of our County's Human Trafficking Task Force, local nonprofits and public safety officials, there is now an effective means to eradicate this practice."
In other action, CB-78-2014, legislation prohibiting certain employers from conducting a criminal background check or inquiring into an applicant's criminal record until after the first interview, received unanimous council support. Council Member Obie Patterson, sponsor of the legislation, said non-violent offenders who have paid their debt to society, deserve a fair chance to secure gainful employment.
"As a former parole commissioner, I have witnessed, firsthand, the difficulties experienced by those with a criminal history who are looking for work," said Patterson. "
It is very difficult to get your foot in the door when many employers are reluctant to give you an opportunity to move beyond the application process. We want individuals who come out of the penal system, nonviolent offenders who have paid their debt to society, to have a fair opportunity for finding work."
The council also supported legislation amending the county's public nuisance provisions and Code of Ethics, and adopted legislation, sponsored by County Executive Rushern L. Baker, III, approving a multi-year public-private partnership agreement for the design, construction, management, operation and maintenance of county property comprising Prince George's County's Urban Stormwater Retrofit Program.
The November 19 council meeting marked the final legislative session for Council Members Will Campos (D) – District 2, Eric C. Olson (D) – District 3, and Ingrid M. Turner (D) – District 4, who will complete their second and final terms in office on December 1.
Get Top Stories Delivered Weekly
More districtchronicles News Articles
Recent districtchronicles News Articles
Discuss This Article