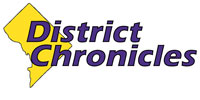 Post Classifieds
Legendary former D.C. 'mayor for life' Marion Barry dies at 78
By District Chronicles staff
On December 1, 2014
He was born in Mississippi to sharecropper parents 78 years ago. But when he died on Sunday, November 23, legendary former D.C. Mayor Marion Barry had what many politicians crave – widespread love and admiration, in spite of personal indiscretions and public scandals.
From the White House to Congress, DMV politicians, students and just plain folks' tributes to Barry's legacy as a champion of Black people and disenfranchised came pouring in from the moment of his passing got on air and online early Sunday morning.
President Obama lauded Barry for advancing the cause of civil rights as a one-time leader of the Student Nonviolent Coordinating Committee and decades of D.C. politics. Like every person reacting to Barry's death, Obama noted the many programs Barry put in place during decades in elected office in the nation's capital to help city residents escape poverty, expand opportunity and return "home rule" to the city, the Associated Press reported.
Barry's pastor, the Rev. Willie Wilson of Union Temple Baptist Church in Anacostia, remembered him as "an icon in the city" who created jobs for generations of Black people and youth.
"Many of the people remember how he touched their lives and made ways for them," said Rev. Wilson. "Many of the persons who are middle class in the city and some who have moved to Maryland and Virginia he gave them city jobs and business loans."
Mayor-elect Muriel Bowser described Barry as someone who "gave a voice to those who needed it most. She said he "lived his life in service to others.
Barry published his autobiography, "Mayor for Life: The Incredible Story of Marion Barry Jr," which described the influences that turned him into a fierce advocate for Black and disenfranchised people.
Barry said early lessons on honesty and courage largely shaped the way he views the world and the Black man's role in it. These lessons came from his mother to whom he dedicates his book, which one reviewer describes as "a story of courage, empowerment, hope, tragedy, triumph and inspiration. "I was born on a farm," he wrote. "I went to a one-room school house."
Following his work with SNCC, in 1968, Barry co-founded Pride, Inc., a federally funded job training program for unemployed Black men.
"Formation of Pride, Inc., made it possible for more than 1,000 D.C. Black youth to secure jobs, solidifying Barry's pledge to jump start African-American economic empowerment and redevelopment in the District," wrote Ron Busby, President of the U.S. Black Chamber of Commerce, in a tribute to Barry's legacy.
His political career began in 1971 with his election to D.C.'s first independent school board. He served as president of the board until 1974. When Congress granted the District Home Rule, Washingtonians elected him to the first city council. In 1978, he was elected to his first of several terms as mayor. He served three consecutive terms until 1990, when he was convicted of crack cocaine use.
After his release from prison, Barry was elected to the D.C. City Council in 1992. He was elected mayor in 1994 and ultimately served from 1995 to 1999.
"Mayor Barry will always be remembered for the most expansive youth jobs program in the United States, where summer employment was guaranteed for every school-age resident," said Congresswoman Maxine Water (D-California). "I will always fondly remember beating Marion handedly on the tennis court, and our many warm interactions over the years."
"He was the people's mayor and in the end the people loved him regardless of his personal indiscretions until the day he died," said Wanda Baker-Joseph, former resident . "I think one of the greatest accomplishments for which he will be remembered is the creation of the Summer Youth Employment Program. It provided and still provides employment to many youth in the District who would not have had employment otherwise."
At his death, Barry was a City Council member, representing Ward 8. Fellow council member David Gross (I-At Large) remembered Barry's advocacy for the poor.
"His strong passion for making our city a great city was only surpassed in effort by his incredible commitment to ensuring that the poorest of our residents were never forgotten."
Get Top Stories Delivered Weekly
More districtchronicles News Articles
Recent districtchronicles News Articles
Discuss This Article