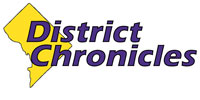 Post Classifieds
Metro Brief: Prince George's County council members sworn in
On December 8, 2014
The nine-member Prince George's County Council was administered the Oath of Office today by Clerk of the Court Sydney Harrison during a swearing-in ceremony held on the Promenade outside of the County Administration Building in Upper Marlboro.
Three of the nine members sworn-in today, Council Members Dannielle Glaros,(D) – District 3; Deni Taveras,(D) – District 2; and Todd Turner, (D) – District 4, are serving their first terms. Council Member Derrick Leon Davis, (D) – District 6 completed a vacated term and now begins serving his first term in office. Council Members Mary Lehman (D) – District 1; Andrea C. Harrison, (D) – District 5; Karen R. Toles, (D) – District 7; Obie Patterson (D) – District 8; and Mel Franklin, (D) – District 9, are beginning their second terms in office.
Council Chairman Mel Franklin, who delivered the Inaugural Address on behalf of the County Council, said the Council looks forward to moving the County forward in partnership with County Executive Rushern L. Baker, III, also inaugurated to serve a second term today. Chairman Franklin emphasized the importance progress that the Council and County Executive have made.
"This County Government stands before you stronger, more unified, and more focused than ever before. From establishing ourselves as the place to be for economic development in this region to reducing crime to historic lows; From taking bold, unprecedented steps to reform our school system to rebuilding our health care sector; we are doing big things, on purpose, to reshape and advance the future of our great county."
The Prince George's County Council will convene tomorrow, December 2, at 11:00 a.m., to elect the Council leadership team for the 2015 Legislative Year. The session will be held at the County Administration Building, Council Hearing Room, 14741 Governor Oden Bowie Drive in Upper Marlboro. There will be a press briefing with the new Council leadership immediately following in the Council Media Room.
Get Top Stories Delivered Weekly
More districtchronicles News Articles
Recent districtchronicles News Articles
Discuss This Article