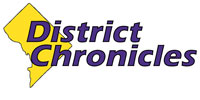 Post Classifieds
Metro Brief: GOP makes second attempt to ban speed, traffic cameras
District of Columbia
On December 8, 2014
As they are about to leave Congress, two members of the House could not resist one last chance to bully the District of Columbia, said the Office of Congresswoman Eleanor Holmes Norton (D-DC).
Rep. Steve Stockman (R-TX) has introduced the bill H.R. 5755, which would prohibit the District from using automated traffic enforcement systems, such as red light and speed cameras. The bill's cosponsor is Rep. Kerry Bentivolio (R-MI), who last year sought cosponsors for a similar bill.
Unlike Bentivolio's draft bill, which was focused solely on the District, Stockman's bill has two provisions: one provision would withhold 10 percent of certain federal aid highway funds from any state or local government using automated traffic enforcement systems. The other provision bans the District in particular from using any traffic cameras.
"These two Members … have turned their focus away from their own constituents," said Norton. "So, free from accountability to their own residents, they are making a last ditch attempt to secure a legacy on the backs of District of Columbia residents. We would have thought that Republicans would be the first, not the last, to acknowledge that traffic laws are a classic local public safety matter."
"These two members, who profess to support federalism and local control of local affairs, have left their principles behind. Whatever one's views on the merits of traffic cameras, D.C.'s use of them is a quintessential local matter for the local elected government to decide, and not for the big foot of the federal government," said Norton.
According to the Insurance Institute for Highway Safety, hundreds of jurisdictions in 24 states across the country use traffic enforcement systems, including 495 jurisdictions that use red light cameras and 138 that use speed cameras.
Bentivolio ultimately did not introduce his bill after Norton alerted his local media that he was interfering in the local affairs of another jurisdiction. Rep. Stockman, who lost a bid for Senate, will not be running for another term in the House, and Rep. Bentivolio lost his primary election earlier this year.
Get Top Stories Delivered Weekly
More districtchronicles News Articles
Recent districtchronicles News Articles
Discuss This Article