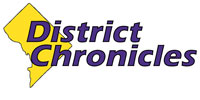 Post Classifieds
Homelessness rises while temperatures drop
By Naeemah Z. Kelly
On December 8, 2014
(TriceEdneyWire.com) – As temperatures drop across the nation, a half million homeless people – including men, women, children and families - are scrambling to find new options to shield off the cold. From coast to coast, the number of displaced individuals has risen exponentially – even in the nation's capital.
"I usually stay out here until about Thanksgiving time but it's been real cold out here early," said 46-year-old Wallace Robn, an orange picker from Ocala, Fla. who moved to D.C. in 1994 in search of a better life.
Robn has been homeless and unemployed on and off for the last six years and prefers to stay in the northwest area of the city. His current set up is in between a storage trailer and a few unruly bushes on the side of Banneker Park.
During this interview, he had an old spa table and hospital blankets as a bed, a painter's bucket as a toilet, and a thick blue economics textbook serving as his daily reading. He had on casual day clothes on top of his dress pants and a grey button-up shirt. His night clothes were the outermost layer meant to ward of the harsh winds of the season.
"I ain't got no problem and I don't tell nobody I'm homeless. If I don't find a place to stay because the shelters are all full or the workers won't let me in then, oh well ... they don't care; not even all these politicians," he said, adding that he needs sustainable help and not just meager handouts.
D.C.'s largest shelter for families has been in the limelight for its bad conditions and lack of security for families; especially since the now 9-year-old Relisha Rudd was taken from D.C. General Family Shelter by a janitor last March.
In mid-October the Deputy Mayor for Health and Human Services, Beatriz Otero, Department of Human Services Interim Director Deborah Carroll and Department of General Services Director Brian J. Hanlon made the city's official plan public to put in "smaller, community-based shelters" that will replace D.C. General.
There is yet a set date for when the shelter will close because there are currently over 100 families and almost 250 children occupying the old hospital rooms. D.C. Councilman Jim Graham told WUSA9, "We'll never get this place closed if we keep filling it up."
Meanwhile, churches and homeless advocates are doing their best to meet the needs of people who come to them for help.
"It's very challenging in that it's not enough facilities and not enough space to accommodate those who are homeless. Finding a place is very difficult when all the shelters are full," said Jo Ann Holston, president of the Anchor of Hope for the Homeless Ministry at Greater Mount Calvary Holy Church, among the largest congregations in the District.
Since so many families lost their homes during the home mortgage crisis and jobs during the economic downturn around 2007, the face of the homeless is no longer the individual with mental illness or substance abuse problems.
"You see a family who last year had a home and this year they don't," said Holston.
The Metropolitan Washington Council of Government's (MWCOG) 2014 report, Homelessness in Metropolitan Washington, states, "11,946 people throughout the metropolitan Washington region indicated that they were homeless." This is an increase of 3.5 percent from 2013 and an 18 percent increase since 2010.
Calculating the national homeless rate is difficult because being homeless is very temporary for most Americans. Stoops said that out of that national number, "... 30 percent of the nation's homeless live short-term in shelters, outside somewhere – even in cars. The other 70 percent of homeless people live long-term in shelters or transitional housing."
Henry Plater, 63, who works at Banneker Recreation Center, which is also a Hypothermia Shelter for Men in Northwest D.C., said he has seen a lot more children coming in for help more than before. He added that out of the 30 to 50 men ranging from 20 to 60 years old that use the shelter, many have jobs in construction but just cannot afford their own place.
"These people need homes, cars, and really help maintaining a job. Not a couple dollars and one meal until they find the next one," said Plater.
Get Top Stories Delivered Weekly
More districtchronicles News Articles
Recent districtchronicles News Articles
Discuss This Article