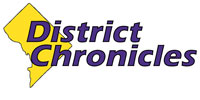 Post Classifieds
Worship Marion Barry like you worship Clinton, Reagan
By Raynard Jackson/NNPA Columnist
On December 15, 2014
(NNPA) – On November 23, civil rights leader and political icon Marion Barry died. It wasn't long after he had taken his last breath that the media started besmirching his reputation.
Barry was a "true" civil rights icon, not one "appointed" by the media. A "true" icon or leader should be like a candle: the more light he gives the less he becomes. That is the essence of true leadership. Barry was born in Itta Bena, Mississippi, but was raised in Memphis, Tennessee. As a teen, Barry had a paper route and was promised a free trip to New Orleans if he obtained 15 new customers. Barry and several other Black teens achieved the 15 new customers goal, but were denied the trip to New Orleans because the city was segregated.
In response, Barry organized all the other Blacks with paper routes and they refused to work their routes until the newspaper delivered on their promised trip to New Orleans. They ended up receiving a free trip to St. Louis, my hometown, because it was not a segregated city. This was the beginning of his fight against discrimination.
He eventually moved to Washington, D.C., where he served on the school board, four terms as mayor and three terms on the City Council. His two signature accomplishments, by far, are his summer youth jobs program and mandating strict minority participation in all D.C. procurement opportunities.
Under Barry, government contracting went from 3 percent to 47 percent of all procurement. He also hired professional Blacks to run various government agencies under his control. These actions were unprecedented in D.C. and have never been duplicated since, though every D.C. mayor since has been Black.
By the time Barry was set up in a sting operation by the FBI, smoking crack cocaine in 1990, he had established himself as a political powerhouse in D.C. He had 20 years of being an advocate for good before he had his first negative blip as an elected official.
This is why I found the media's behavior so offensive when, upon Barry's death, they immediately began mentioning his arrest for smoking crack. Is it a legitimate part of Barry's life's narrative? Of course, but not in the immediate wake of his death. Could the media not allow his body to grow cold before they talked about his personal flaws?
Whenever the media interviewed or discussed Barry, they always seemed to find a way to interject his crack arrest into the story. Yet this same media never mentions former president Bill Clinton's many dalliances with women when they interview him or discuss his legacy. They hardly mention his admitted sexual affair with then-White House intern, Monica Lewinski.
How many of you are aware that "60 Minutes" correspondent and CBS News chief foreign affairs reporter Lara Logan admitted to having sexual affairs with two American men simultaneously in Iraq? U.S. State Department contractor Joe Burkett and CNN correspondent Michael Ware fought a battle royale over Logan in a Baghdad safe house, which put innocent people's lives in jeopardy.
How many of you are aware that NBA broadcaster and TNT announcer Marv Albert was accused of raping at least two women and agreed to plead to lesser charges? He was suspended for two years, but his personal issues are rarely, if ever, mentioned.
I would just simply say, pull up a picture of each of these people and make your own conclusions.
To my dismay, even Black-oriented – but not Black-owned – media outlets, including The Root (owned by the Washington Post) and The Grio (owned by NBC), have been no better than the White media's portrayal of Barry. To White folks who seem to be confused by the love affair Blacks had with Marion Barry, and are always asking me why Blacks seem to almost worship him, I say for the same reason average Whites seem to almost worship Ronald Reagan.
For all of Barry's personal demons, like a candle, he used himself up to lighten the path for others. That is why he will always be D.C.'s "Mayor for Life."
Get Top Stories Delivered Weekly
More districtchronicles News Articles
Recent districtchronicles News Articles
Discuss This Article