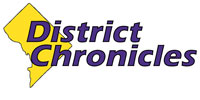 Post Classifieds
ANC 6E elects youngest commissioner
By Lyndsae' Peele
On December 27, 2014
"I used to fight in the streets, now I'm fighting for what's right," said Antonio Barnes, the 24-year-old councilmember recently elected on the ANC 6E board of commissioners.
An advocate and seven-year employee of the Service Employee International Union (SEIU), Barnes is a resident of Sursom Corda, a low-income neighborhood in Ward 6.
With a mission to tackle unfair treatment at work, Barnes started with the Union at 17, which helped him to develop a passion for helping and giving back, while growing and maturing into an upstanding young man. Pleased to have won his electoral race, he is eager to take office.
"I used to be out here doing bad things, fighting and other stuff, but now I've changed," said Barnes. Growing up in Sursum Corda, Barnes has seen what has been promised to the community but still hasn't been done.
"I know the hardships that my community has encountered and I vow to do all I can to make things better," he said.
Residents of the area feel as though the government has neglected them. Barnes has a plan to cater to the residents of the area and give them what he knows they need.
As a young adult, Barnes can target more than one type of crowd, from the youth to the middle-age parents and even older people who want to see young Black men doing something positive.
"I've seen him go out and canvas, talk to so many people, and even knock on numerous doors," said Leslie Clark, a co-worker of Barnes. "Everyone knows him."
Barnes is the youngest in Ward 6's history to win commissioner and vows to do what he can for his community.
"I fought long and hard to get where I am today and I won't stop now," said Barnes.
Get Top Stories Delivered Weekly
More districtchronicles News Articles
Recent districtchronicles News Articles
Discuss This Article