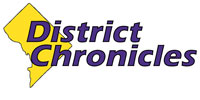 Post Classifieds
Warm stories behind those "Little Red Kettles"
By Maya Allen/Howard University News Service
On December 27, 2014
They come out across Washington and America every Christmas season, the Salvation Army bell ringers and their red kettles.
From sunup to sundown, their bells never stop ringing outside of department stores, grocery stores, malls and other places where people frantically shop. Some sing and dance, but they all spread holiday cheer as they collect hundreds of thousands of dollars to help others.
Among them are Pamela Gratts, 51, and Cassandra Thomas, 50, who ring their bells outside of different locations in Northwest Washington.
Gratts, Thompson and thousands of others who man their posts collecting money are often referred to as "the army behind the Army."And behind each of those volunteers is a story of salvation and redemption.
So it is for Gratts and Thomas. When Pamela Gratts was 39, her whole life changed.
A self-described workaholic, Gratts moved to Washington from Kansas City, Missouri, for work. She spent her days caring for patients as a nurse at the Washington Hospital Center.
"I had no worries in the world," said Gratts, who received her pharmacology degree from Tarkio College in Tarkio, Missouri. "I had no children, a nice home, a car, insurance and a career that I loved."
"My mother used to always say to me, 'You are just one paycheck away from being at the same level as someone beneath you.'" She never expected for that someone to be her. "I had a stroke, and in a blink of an eye, I had nothing," she said.
When Cassandra Thomas, who Gratts had befriended 34 years earlier during a visit to Jackson, Mississippi, heard the news, she came to be by Gratts side. Thomas struggled with drug addiction, but still came to help Gratts.
"When I got sick, she dropped everything to come take care of me," said Gratts.
Gratts, crippled by the stroke and virtually penniless, and Thomas, struggling with her addiction, soon found themselves sleeping on the streets of Washington., carless, jobless and homeless.
"I went from being financially independent and self-sufficient, to actually on the streets in a wheelchair," said Gratts. "I was going through a lot mentally, physically and financially, but I was determined not to stay there."
"We were homeless, but I wasn't going to leave her," Thomas said. "She couldn't walk or talk. In the beginning, I wasn't getting paid a dime to take care of her, but I did it out of love."
They turned to the Salvation Army. "When you don't have anything and you have to ask an organization for something, it's a mental trip," said Gratts. "But The Salvation Army paid my rent and bought me groceries. They never turned me away." Thomas, is now drug free, a certified nurse and Gratts' primary caregiver. Despite having a home and caregiver, Gratts early on still suffered with the sense of being useless. It made her depressed, she said.
Two years ago, she and Thomas went to The Salvation Army's Thanksgiving Dinner on Sherman Avenue. That is when they met Capt. Ray Jackson and his wife, Shalanda. Capt. Jackson asked if she could be a bell ringer. Being able to help others has lifted her spirits, she said.
"Now I volunteer so I can give back. If you've been where I've been and God saved and took care of you, this ain't nothing. The Salvation Army is truly the salvation army. It saves people."
Gratts, who is confined to a wheelchair, said she gets joy every single day when she's out ringing bells. At 6:00 a.m., she said, she's already up and waiting for Thomas to come get her out of bed.
When Grant is not bell ringing, she said she spends her days going to her doctors' appointments, watching TV and doing activities to stay active.
"They saved this," said Gratts, pointing to her head. "I'm happy now, and my mental health is transformed, which has made my body feel a lot better. I will always volunteer for the Salvation Army," she said with a smile, "any season, but especially this season. It's just something about these little red kettles."
Get Top Stories Delivered Weekly
More districtchronicles News Articles
Recent districtchronicles News Articles
Discuss This Article