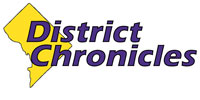 Post Classifieds
Americans protest police killings of Blacks
By Jazelle Hunt/NNPA Washington Correspondent
On December 27, 2014
WASHINGTON (NNPA) – On Saturday, thousands of Americans across the country registered their objection to police officers not being held accountable after killing unarmed citizens, many of them Blacks, by mounting massive demonstrations and rallies, the main one held here in the nation's capital.
Organized by major civil rights organizations, the goal of the protest was to demand federal intervention in state prosecutorial systems that have failed to indict anyone in the police killings of victims such as Michael Brown, Eric Garner, Aiyana Stanley-Jones, and Pearlie Golden.
"We must have this nation deal with the fact that just like 50 years ago, the states have taken a position to rob the human rights and civil rights of citizens with states' rights-protected laws," said the Rev. Al Sharpton, the rally's chief organizer.
The demands by Sharpton included: expanding the powers for the Justice Department to investigate state prosecution procedures; national legislation to lower the threshold for grand jury indictments of police officers; and independent special prosecutors to examine potential cases of police brutality or misconduct.
The march drew a multiracial, intergenerational sea of sign-toting citizens from all over the nation.
Wanda Sharif, from Beaumont, Texas, had already been in Washington to help care for her grandchild, but extended her visit to attend the march. The grandmother of seven recalled marching with Dr. Martin Luther King, Jr. at 11 years old, and attending all-White schools until enrolling at Spelman College in Atlanta.
"I've been doing this for three generations. I have to be here to document for my grandchildren, so they know I was here," she said. "It's important that everybody sees – not just America, but the whole world should see that we have not made all the progress and accomplished all that we thought we did. More and more eyes are opening. We're still fighting for the same things we were fighting for in the '60s."
Washington, D.C., residents Albert and Andrea Elliott brought their 12-year-old grandson, Jeremiah, to use the march as a teachable moment.
"I brought my grandson to his first march so he understands that what he is doing is right. We're teaching him solidarity … and that he can speak up and be nonviolent without being afraid," she said. "We, as a people, have to stick together and be more involved. We have to go to the source, where the laws are made, to put our foot on their necks."
University of Maryland students and Divine Nine fraternity members Marcus Davis, Justin Ferguson, and Akiel Pyant carried a "Black Lives Matter" banner.
"I'm here because I'm concerned about the future. If our grandparents went through this, and we're going through this, Lord only knows what my grandchildren will go through," said Davis, a member of Alpha Phi Alpha fraternity.
The light police presence blocked traffic and generally stayed out of the way as the loud but peaceful processional traveled six blocks to the main stage at the foot of the Capitol's front lawn. Both national and international media were present, as well as union organizations, Black Greek letter organizations, civic and grassroots organizations, student groups, and families. Marvin Gaye's 'What's Going On' and 'What's Happening Brother' met the marchers as they arrived at the main stage, where media trucks, government Suburbans, and a stilted press box overflowing with photographers flanked the crowds.
With the Capitol as a backdrop, the main stage featured a lineup of speakers including Rep. Al Green (D-Texas), Newark, N.J. Mayor, Ras Baraka, Howard University Student Association President, Leighton Watson, and more. Activist and radio host, Joe "The Black Eagle" Madison served as master of ceremonies.
The Washington march was also the only one attended by the families of well-known unarmed Black male victims: Eric Garner, Michael Brown, Akai Gurley, Tamir Rice, John Crawford III, Lavar Jones, Cory Ball Jr., Trayvon Martin, and Amadou Diallo. All of the families were given time to speak.
"We've been here so many times. I know in 2000, when the four White officers were acquitted of killing my son, of all charges, I thought the world was ending," said Kadiatou Diallo. Her unarmed son Amadou Diallo was shot 41 times by four New York Police Department officers in 1999. "…We said stop police brutality then. And today, 16 years later, we're here demanding the same thing."
Get Top Stories Delivered Weekly
More districtchronicles News Articles
Recent districtchronicles News Articles
Discuss This Article