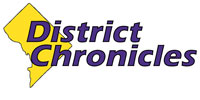 Post Classifieds
With a criminal record, it's one strike and you're out
By Jazelle Hunt/NNPA Washington Correspondent
On January 5, 2015
Ronald Lewis was standing on a street with his brother, who was selling drugs. When police were approaching, Lewis warned his brother. Both were arrested. That minor, almost reflexive reaction, led to Lewis sharing a drug possession charge with his brother as well as charges of being an instrument of a crime.
His lawyer advised him that he could win a trial. Later, that advice became a plea offer. Without being tried, Lewis accepted a B-class misdemeanor conviction, served no time in prison, and was released from probation early for steady compliance.
That was 10 years ago. Lewis, now 35, feels he is paying again for his past mistake.
"I paid that lawyer $10,000 … I didn't know what [the deal] entailed. I didn't know the impact it would have on my life," he said. After going through the criminal justice system, Lewis entered a vocational program and earned an engineering license.
"I thought life would begin for me … but I have had so many doors slammed in my face, I know what wood tastes like," said Lewis who is enrolled to earn an HVAC certification.
According to a new report from the Center for American Progress (CAP), as many as one in three Americans has a criminal record. Despite being commonplace, this status can cause life-long socioeconomic challenges.
The report, titled, "One Strike and You're Out: How We Can Eliminate Barriers to Economic Security and Mobility for People with Criminal Records," paints the picture with an array of numbers:
Ninety-five percent of people who are incarcerated at any level will be released;
Each year, nearly 12 million people move through local jails; and
As of 2012, more than 4.7 million Americans were on probation or parole. Most will be confronted with their record as they attempt to rejoin society.
Millions of people who have been arrested – even for exercising their constitutional right to protest – and were never convicted or incarcerated, still carry the stain of having criminal charges come up in a background check.
"Even a minor criminal record can serve as an intractable barrier to employment as well as utter basics such as housing, such as building good credit, education, job training, and more," said Rachel Vallas, co-author of the report.
Low-income and people of color with criminal records are often most likely to fall into a cycle of poverty as a result of their records. The transgression, plus a common lack of skills and/or education, often merge to bar them from employment, and then from the social safety net that keeps people from sliding into deep poverty.
In addition to the employment challenges, difficulties with housing, public assistance, education and training, and economic stability and mobility compound their predicament.
In the case of public housing, for example, federal guidelines bar people with certain convictions and criminal activity – mostly drug-related, but also violent and sexual offenses – from receiving assistance.
However, local agencies manage federal housing programs and have authority to create their own guidelines. In many areas, agencies go beyond the federal guidelines to evict or deny housing to entire families if any one member has an encounter with the criminal justice system, regardless of whether they were ever convicted.
Consequences often extend past the person with the record. The report notes that as of 2012, more than half of incarcerated adults have minor children. Currently, more than one in four Black 20-somethings have had a parent incarcerated during their childhood.
"It affects everybody close to you," says Lewis. "From the moment you get in trouble, it's a disappointment, it affects your mom…. Then your family sees you trying to turn your life around and enduring rejection after rejection. Then that spills over to your wife and your kids because your mood is not the best, and your sense of self-worth is not the best."
There's a form from his daughter's school that he still hasn't signed and returned. It includes a question on criminal background.
Lewis said, "I don't want them to see her differently because of my record, or things that I did.
Get Top Stories Delivered Weekly
More districtchronicles News Articles
Recent districtchronicles News Articles
Discuss This Article