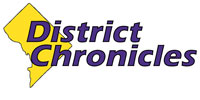 Post Classifieds
New CBC Chair: Black America is in a state of emergency
By Joyce Jones
On January 19, 2015
(TriceEdneyWire.com) – U. S. Rep. G.K. Butterfield (D-N.C.), the 24th chairman of the Congressional Black Caucus, is taking the reins of the CBC at a pivotal moment in Black history.
Despite all of the progress that African Americans have made since the group was founded in 1971, arguably the most significant of which has been the election of the nation's first Black president. But Butterfield says there is still far to go.
"Black America is in a state of emergency today as it was at the turn of the century," Butterfield declared in remarks delivered at the CBC's Jan. 9, ceremonial swearing in, where the theme was "Learn from our past, but boldly confront an uncertain future."
As the North Carolina Democrat noted, 25 percent of Black households today live below the poverty line and one in three Black children are living in poverty. The African-American unemployment rate has for a half century been twice as high as White unemployment, which only exacerbates persistent income and wealth gaps.
"America is not working for many African Americans and the Congressional Black Caucus has an obligation to fight harder and smarter in the next Congress to help repair the damage," said Butterfield.
With both chambers now entirely controlled by a Republican Party that has repeatedly turned a cold shoulder on increasing minimum wage, extending long-term unemployment insurance and other proposals to keep the social safety net intact, it won't be easy.
In addition, said Assistant Democratic Leader James Clyburn, who also spoke at the event, African-Americans must deal with the repercussions of the U.S. Supreme Court decision that overturned a key section of the Voting Rights Act and state and local governments around the country that are "stacking and bleaching legislative and congressional districts, diluting the effectiveness of Black representation and participation."
But Butterfield, who has a storied civil rights past, is no stranger to such challenges. "He has lived much of America's history," Clyburn said, and "has learned its lessons."
The new chairman says his leadership of the caucus will be influenced by his experiences growing up in the segregated South of Wilson, N.C., where "colored people" as Blacks were called back then, were treated like second-class citizens.
When Butterfield, was a boy, his parents, a teacher and a dentist, were considered middle class. But truth be told, they were just two weeks away from poverty instead of one day like others, and if either parent were to become seriously ill, their family of three would have been financially devastated just like everyone else's.
His father, an avid voting rights activist and founder of the local NAACP chapter, also served for a time on the city council – until efforts to disenfranchise Black voters made it impossible for Blacks to be elected. As a teenager, Butterfield founded a junior NAACP chapter and helped lead hundreds of other youths in weekly demonstrations to protest segregated public facilities. During his freshman year of college, he took on voting rights, an issue he continues to fight for today.
"Those experiences have helped mold my perspective and make me determined to fight every day to expose and defeat racism and discrimination wherever it may exist," Butterfield said. "So if anyone has doubts that this chairman and this Congressional Black Caucus will have any reluctance to fight for our communities – you are mistaken."
Butterfield hopes that poverty is an issue on which Democrats and Republicans can find common ground because GOP lawmakers represent the majority of constituents who've lived below the poverty line for the past 30 years.
The centerpiece of the group's agenda, however, will be criminal justice reform and reversing a "terrible trend" that has resulted in unarmed Black men dying at the hand of law enforcement, Butterfield said.
"We are ready for these fights. The fight for the future is not a Black fight, a Democratic or Republican fight; it is a fight that all fair-minded Americans should promote," the CBC chairman said. "We need to use political means, policy and legal means to reduce racial disparities and move closer to the day when all African Americans will benefit from fairness and justice and realize the American dream."
Get Top Stories Delivered Weekly
More districtchronicles News Articles
Recent districtchronicles News Articles
Discuss This Article