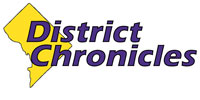 Post Classifieds
Closing the wealth gap starts with personal goals
By Zach Rinkins
On January 19, 2015
(TriceEdneyWire.com) – Sakina Spruell Cole should have an "S" on her chest with a cape to match. Cole is a financial journalist, web series host, entrepreneur, mother and wife. After two decades of promoting financial literacy and economic empowerment, she is not tired yet. This Rutgers University alumna is armed with a purpose.
"I want to help close the wealth gap between people of color and mainstream communities," said Cole, the CEO of Cole Media, Inc., a full-service communications company based in Newark, New Jersey.
Not one to merely talk about it, Cole acquired Minuteman Press of Flemington and created the Keeping It Rich brand of products to increase financial literacy within the general market. Those products include a blog, seminars, financial booklets and a web show that airs on BET.com.
"These financial products deliver much needed personal finance information to an audience in a lively, upbeat format so everyone can relate to it," said Cole. "I try to share every bit of my own life when it concerns finances because people feel so uncomfortable talking about their own financial situation."
Cole's five keys to Keeping It Rich include defining your good life, investing in your financial goals, building your credit, owning something and hiring your staff.
Define
People really need to define what the rich life is for themselves. For some people, the rich life is having $1.7 million. For others, it may be having a four-bedroom house with a white picket fence and enough grass for the dog to run around. It's really important to stop and define what the rich life looks for you."
Invest in your goals
Figure out how much money it costs to secure your rich life. Understand the costs of your dream home or business. Then save and invest towards that paying for that dream.
Build
You have to build your credit. Because without credit you cannot do anything in America.
Invest
You need to own a home and/or a business. You will need assets that will continue to generate wealth.
Hire
A lot times, we shy away from hiring people. But, we really need to hire people so that we can maintain and sustain our rich life. If you have four kids, you may need to hire a nanny so you can work harder and produce wealth for yourself and your family.
Zach Rinkins is the Associated Press award-winning host/producer of the Rinkins Report. Follow him on Twitter at @RinkinsReport.
Get Top Stories Delivered Weekly
More districtchronicles News Articles
Recent districtchronicles News Articles
Discuss This Article