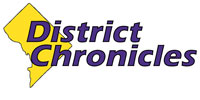 Post Classifieds
Residents, tourists flock to King Day events
By Tonesha Townsel and Rachel Kersey/Howard University News Service
On January 26, 2015
WASHINGTON – The wind whistled loudly on a brisk Monday morning, as people flocked to the Martin Luther King Monument erected in 2011 to pay their respects to the late revolutionary.
Harry Lewis, 57, a Washingtonian who lived through King's time, stood alone, gazing up at the monument as he as he thought about King's legacy and his most momentous visit to the District.
"I was born and raised here in the District and it wasn't too far from here where they had the resurrection seed," said Lewis, referring to the famous 1964 March on Washington, where King gave his "I Have a Dream" speech. "Quite naturally, he was incidental with the march; that was enormous for the District of Columbia at that time.
"They were scared, the police on standby. They had the National Guard, groups along the river at Fort Meyer. He had 250,000 Black people. They knew something was going to happen, but Dr. King had them under control. Nothing happened, not a thing. The speech was across the street at the Lincoln Memorial."
Kendrick Peters, a Ph.D. student at Howard University, roamed the memorial site with his grandmother.
"For me, his work has impacted me by inspiring me to consider social justice beyond mentoring and pursuing higher education," said Peters. "I've learned to be intentional about each of my social justice activities … We don't have that voice anymore, that voice to listen to and respect as they had then."
A contingent from Alpha Phi Alpha Fraternity, King's fraternity, arrived from Morehouse College, King's alma mater, after a 10-hour-plus bus ride from Atlanta. They gathered around the memorial, linked together and sang Morehouse's school song. Upon their departure, men of the Fraternity made their calls of brotherhood and, as did so many others, took photographs at the site.
Fleming Benjamin Berning, an employee at a state mental health hospital in Ohio, was among the photographers taking pictures.
Later Monday morning, people flocked to the Washington National Cathedral for music, dance, and spoken-word performances by the African Heritage Dancers and Drummers, The Bishop John T. Walker School for Boys Chorus, soloist Francese Books and dancer Mahkai Carroll, the Washington Performing Arts' Children of the Gospel Choir, poet Tika Wallace and the Howard Gospel Choir of Howard University.
King loved music, so say his friends and biographers, and at times King reflected on its magic
"God has wrought many things out of oppression," King said in his 1964 opening address at the Berlin Jazz Festival. "He has endowed his creatures with the capacity to create, and from this capacity has flowed the sweet songs of sorrow and joy that have allowed man to cope with his environment and many different situations."
King delivered his final Sunday sermon from the cathedral's Canterbury Pulpit on March 31, 1968, just days before his April 4, assassination in Memphis, Tennessee. The cathedral has made it its mission to proclaim and achieve King's vision.
"The work's not done," said the Rev. Canon Jan Cope, who serves as the cathedral's vicar. "We feel his legacy and work very strongly and passionately here, and it's a house of prayer for all people. We feel that it's our great privilege to open our doors and continue to tell the story because the work's not done."
Open to the public, the world's sixth largest cathedral and its seats were filled from front to back with people of all walks of life.
"If you looked across the sanctuary, you didn't just see Black people," said Brandon Cox, vice president of the Howard Gospel Choir. "You didn't just see White people. You saw Hispanics, you saw Indians, you saw all these other ethnicities come together as one to honor and celebrate Dr. Martin Luther King.
Bené Durant, 70, attended the service. Born in Portsmouth, Virginia, she remembers the signs separating Whites from coloreds. She recalled how she sat in the balcony when she went to the theater.
Due to efforts by King and others, as well as her own hard work, Durant said In August 1967, she became the first Black librarian in Arlington.
"I think people need to value education more," she said. "I don't think there's that emphasis on education and trying to be the best you can. A lot of people want something for nothing."
Get Top Stories Delivered Weekly
More districtchronicles News Articles
Recent districtchronicles News Articles
Discuss This Article