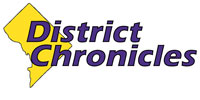 Post Classifieds
Metro Brief: Norton, House Democrats introduce Federal Employee Parental Paid Leave Act
District of Columbia
On February 9, 2015
Congresswoman Eleanor Holmes Norton joined Joint Economic Committee Ranking Member and lead sponsor Carolyn B. Maloney (D-NY), Democratic Whip Steny Hoyer (D-MD) and other Democratic members at a press conference last week to introduce the Federal Employees Paid Parental Leave Act (FEPPLA), legislation that would provide six weeks of paid leave to federal employees for the birth, adoption or foster placement of a child.
Norton was optimistic about the bill's chances because it has no costs since it does not require any staff adjustments while the parent is on leave and because Republican Congresswomen showed some concern for women by forcing the withdrawal of a bill last month that would deny a woman an abortion who had been raped but did not report it to the authorities.
"Amazingly, female federal government employees and the average woman worker in the U.S. are hardly better off than I was when having my two children decades ago," said Norton. "Most women with children under five work because they cannot afford not to, the American economy cannot function without them, and today's American standard of living requires two breadwinners."
Norton said that the Fortune 500 companies have done the math and found that cost reasons for not providing parental leave disappear. Leaving aside the costs of inefficiency, the cost of turnover is 1.5 times the costs of eight weeks of paid family leave. Norton also said perhaps the most compelling reason for the bill is what science has revealed about brain development. Years zero to five are critical to the brain development of a child.
The bill matches parental leave legislation that President Obama called for in his State of the Union address, but differs from the executive memorandum signed by the President last month, which permits all federal employees to receive an advance of sick and annual leave for the birth or adoption of a child or for other sick leave eligible uses. The legislation also applies to all employees of the House and Senate (including Members' personal offices and Committee Staff), Capitol Guide Service, Capitol Police, Congressional Budget Office, Office of the Architect of the Capitol, Office of the Attending Physician, Office of Compliance, the Office of Technology Assessment, Library of Congress, and the Government Accountability Office.
Get Top Stories Delivered Weekly
More districtchronicles News Articles
Recent districtchronicles News Articles
Discuss This Article