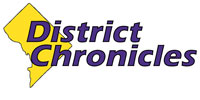 Post Classifieds
Former abandoned storefront becomes cultural mecca
By Sarafina Wright/Howard University News Service
On February 23, 2015
(WASHINGTON) – Lauren Wagner was strolling down Georgia Avenue when something caught her eye and ear at the intersection of Georgia and Florida Avenue.
Like many residents, she was attracted to the Shaw Arts, Crafts & Fashion Market, a colorful, creative mixture of arts and crafts that has brought life into what was once a vacant building.
"I was walking down the street past the Metro PCS store playing the gogo music," said Wagner. "That just made me feel good. The vibe was there and I walked past this place, and I definitely wanted to check it out."
Filled with work by visual artists such as T.H. Gomillion and Nessar Jahanbin, the market offers artwork, clothing, and various unique pieces. Margaret Harris, owner of Noccasion Gifts, an online boutique specializing in novelty items, has a number of her soaps and scrubs available for purchase in the market.
"I was a big Bath and Body Works shopper," said Harris. "I found that I always running out of soap way before the lotion. So I said let me make my own soap."
Since making that decision, Harris has packaged scrubs, soaps, lotions and body butters for scores of customers.She credits the uniqueness of her products to the fact that they contain essential oils that lift the user's spirits and relieves aches and pains. So far her bestseller has been the oatmeal, blueberry soap, which she says smells exactly the way the name suggests.
The market began in December as a place for artists to display and sell their work during the holiday season, but residents liked it so much that the organizers decided to extend it indefinitely.
Located at 651 Florida Avenue NW, the market is open Friday through Sunday. Every Friday from 7 p.m. until midnight, they host an Art Rave event, which features a fashion show and live art demonstrations.
Kenneth David, who has worked repeatedly with such markets in the District, said he believes the market has been successful because of what it brings to the community and to new residents moving in from all over the globe.
"These people are from Iowa, Nebraska and so on, and they are leaving an impact on the area. There is all these new things popping up to accommodate them, but any good neighborhood needs community and culture to survive," said David.
However, David knows that there is no promise that the market can survive in an area that is targeted by developers and retailers hungry for new space to place housing and businesses.
"Right now we're fine and we plan to be here for a while," said David. "But this is a great space and great location and you never know when we'll be priced out, or if some developer just takes over the space."
Get Top Stories Delivered Weekly
More districtchronicles News Articles
Recent districtchronicles News Articles
Discuss This Article